Upgrade Your Wool Mattresses with a Mattress Topper

The Wool Bed CompanyTM Now Offers the Most Comfortable Bundle!
Wool mattresses already have a ton of great advantages over the competition. They're all natural, they're covered with organic cotton sheets, and they're free of harsh fire-retardant toxins due to the flame resistance of wool. To top it all off, they're incredibly comfortable! The Wool Bed CompanyTM has decided to make your dream mattress even better by offering an upgrade bundle. Now, our customers may order our Signature Wool Mattress and upgrade to include a matching mattress topper at a specially reduced price!
Sleepers have the choice between bundling in a Standard Wool Mattress Topper for $150 or selecting the Ultimate Wool Mattress Topper for only $300. You get great savings and greater comfort than ever. Learn more about this exclusive offer from The Wool Bed CompanyTM!
Standard Mattress Topper Upgrade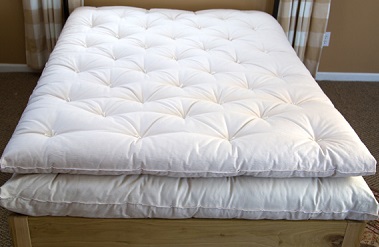 The Soothe EweTM Standard Topper is available in Twin through California King, making it a perfect fit for whichever Signature Mattress size you choose. Before tufting, this topper model has 6-7" of wool. The final loft is 4-5". This is our second thickest topper available, providing plenty of additional comfort.
Ultimate Mattress Topper Upgrade
The Soothe EweTM Ultimate Topper starts at 9-10" of thickness before double hand tufting results in the final 6-7" of loft. As our thickest wool topper, you will feel like you're sleeping on a cloud. Our natural toppers provide many health benefit, as they are free of harsh toxins, dyes, and chemicals.
Renew Your Wool for Long-lasting Comfort
Both toppers are Surround Ewe Renewal Program Products, meaning you can have the wool cleaned and lofted by our experts. Just schedule an appointment to have your mattress and topper to feel like new again. Local customers can even have an expedited process so they have their wool products back in time for bed.
Don't forget to order wool pillows, cotton sheets, and a comforter set to truly complete your natural bedding system. All of our natural wool and organic cotton products are made right here in the USA. Through our new upgrade opportunity, you get more natural bedding all at an affordable price! If you decide not to upgrade, you still receive one of our Economy Mattress Toppers with our Signature mattress!