Organic Ultimate Surround Ewe Pillow Top/Topper
Made in the USA Sale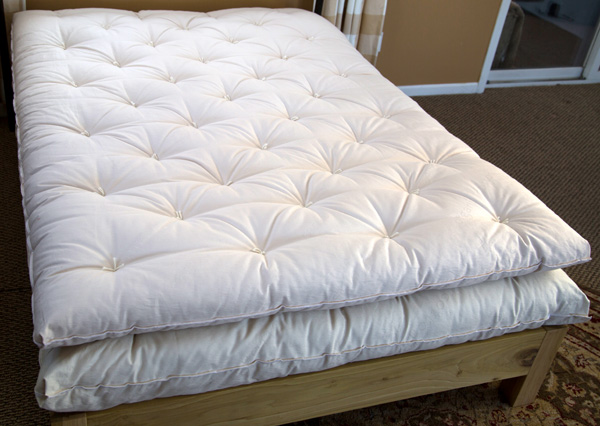 All-Natural Wool Mattress Topper "Like Sleeping On A Cloud"
The Soothe Ewe™ Ultimate Topper from The Wool Bed Company™ is the most luxurious mattress topper there is. Our Ultimate topper gives you approximately 6 inches of pure softness to leave you feeling like you're sleeping on a cloud. This topper is perfect for customers who prefer a lush, comfortable bed. By adding our Ultimate topper to your existing mattress, you will achieve truly blissful sleep.
Benefits of ECO-Pure Wool Bedding
A natural wool mattress topper is a great investment for any bedroom. If you suffer from severe ailments such as fibromyalgia, arthritis, or any chronic pain, then consider adding our Ultimate topper to your mattress system today! Just like our wool mattresses, this topper is made with ECO-Pure™ Wool encased in a 100% certified organic cotton cover. It's a healthy way to get a restful night of sleep without being exposed to harmful chemicals or toxins.
REVIEW for The Wool Bed Company
Wool products have changed my life. January 2019 I received a 4"wool topper from her. All my life I have suffered from sleep disorder. I am 79 years old. If I managed 2 nights of sleep a week I was lucky. Today with the wooly topper I am sleeping a solid 6 to 8 hours every night of the week. The topper breathes. I sleep comfortably without turning and tossing to relieve either heat or cold. One of the surprising aspects of the wool insulation is that I am neither warm or cool when sleeping on the topper. The topper's temperature is neutral. I sleep at my own natural temperature. I guess that makes sense. The sheep who wear the fleece naturally want to stay at a regulated, comfortable temp in any weather. The quality of the product is excellent. The customer service is outstanding. Thank you Susan for creating these wonderful wool products. Sky Aisling Port Townsend, WA. PS - No one has influence me to write this review. I am totally please with this product and write the review in all honesty. Susan, please ask me to edit this if necessary. Please do not change any words in the writing. Delete a sentence or rearrange a sentence if necessary but not the meaning of the words. I intend to send you a hard copy of the review via USPS to make sure you receive this properly and no trolls have messed with the transmission. Thank you.
See what our customer are saying over the past 24 years about our organic bedding products by browsing our customer reviews page. If you have any questions, feel free to give us a call or contact us online for a personal comfort consultation with one of our wool bedding experts.
Order Yours Today!
The Wood Bed Company Renewal Program for Toppers
The Wool Bed Company™ offers the Surround Ewe™ Wool Mattress Renewal Program on our Ultimate Topper to restore the loft of your mattress topper. We recommend having it renewed every few years for the best results. Our bedding experts dismantle the topper, remove the wool, check and clean it, add more wool to it, then reassemble it with a NEW cotton cover. When you get it back, usually within 36 hours, it will look, feel, and smell like new. Enjoy your mattress topper for years and years! The cost is half of the suggested retail price.
| | | | | |
| --- | --- | --- | --- | --- |
| Topper | Size | Approx. Wool Fill | | Approx. Thickness |
| Twin | 39x75 | 18 lbs | | 5" to 6" |
| XL Twin | 39x80 | 21 lbs | | 5" to 6" |
| Full | 54x75 | 23 lbs | | 5" to 6" |
| Queen | 60x80 | 25 bs | | 5" to 6" |
| East King | 76x80 | 30 lbs | | 5" to 6" |
| Cal King | 72x84 | 30 lbs | | 5" to 6" |
| | | | | |
The Ultimate model is DOUBLE hand tuft, resulting in an approx. 5-6" thick topper after tufting (when new.) It is important to turn and flip your wool mattress topper regularly, we suggest rotating and flipping when you change the sheets to keep the wool evenly distributed. Natural wool fibers will compress with use, please follow Surround Ewe's™ wool mattress care guide for years of comfort.
Have questions? Call our team at 920-860-6086 or contact The Wool Bed Company™ to order an ECO-Pure™ Wool mattress topper.