Additional Information
EMPLOYEE SAFETY
Even if the products are deemed "defective", The Wool Bed Company™ reserves the right to refuse service and void the warranty if we deem the products unsanitary. We value the safety and health of our employees and will not expose them to work conditions that endanger their well-being.
This includes but is not limited to:

BLOOD

BODILY
FLUIDS/STAINS

PATHOGENS

CLEANING OR THE
USE OF CLEANING
PRODUCTS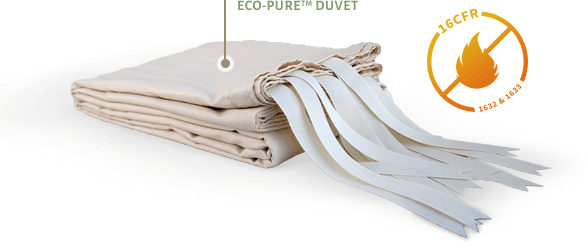 FIRE & FLAMABILITY TESTING
*Our wool products pass the federal fire retardant laws 16 CFR 1632 & 16 CFR 1633 (Flammability test, cigarette smoldering test) and were conducted by a government certified lab. However, if the products are treated with cleaning solutions or chemicals their flammability resistance may be seriously compromised.
CLICK ON OUR PRODUCT WARRANTIES
TO VIEW MORE DETAILS!

MATTRESS TOPPER
LIMITED WARRANTY

PREMIUM MATTRESS
LIMITED WARRANTY

SIGNATURE MATTRESS
LIMITED WARRANTY
Transportation or inspection costs
Bedding products sold "as is"
Body impressions / compression less than 3"
Changes/alterations to our specific structure and design
Fabric stains due to soiling, fluids, tears and/or burns
Damage due to abuse, misuse, ordinary wear, failure to follow care instructions, improper maintenance