Organic 2 Inch Economy Surround Ewe Underquilt/Topper
Made in the USA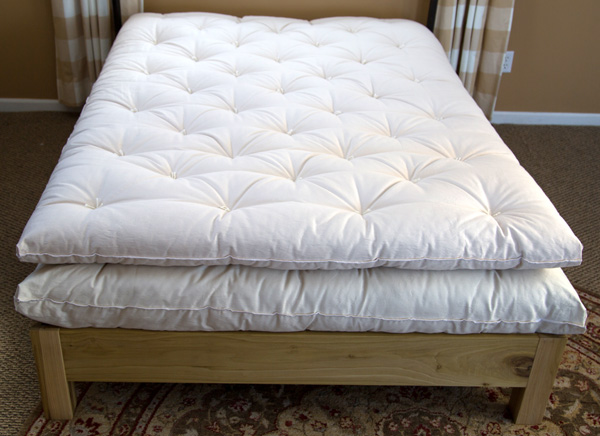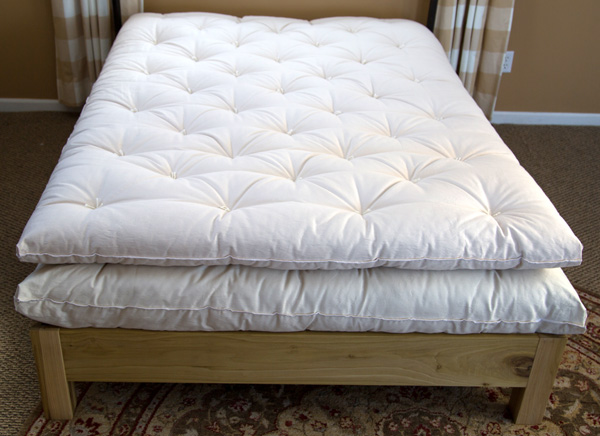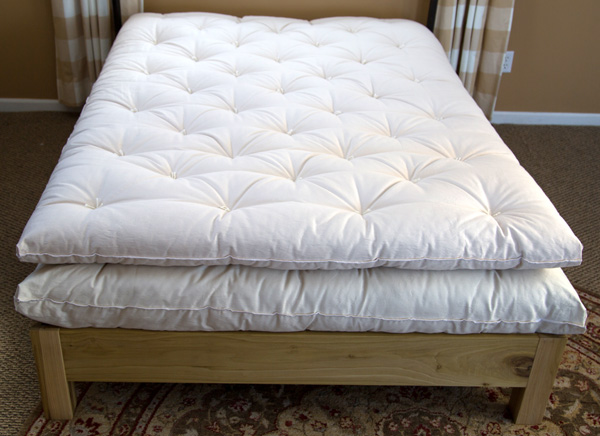 100% Certified Organic Cotton/ ECO-Pure™ Wool Mattress Topper
The 2-inch thick Economy Deep Sleep Wool Mattress Topper/Underquilt is an affordable way to put soft, all-natural layers of wool between you and the fire retardants and toxins in today's mattresses. This topper is available in all mattress sizes, from Twin all the way up to California King. Like all our wool mattress covers, these are hand made in our Wisconsin shop using all-natural, US-sourced ECO-Pure™ Wool and certified organic cotton.
All-Natural Bedding Benefits
An all-natural Deep Sleep wool mattress topper is a great investment for any bedroom and a particularly good for anyone suffering from physical ailments such as allergies, fibromyalgia, arthritis, or any chronic pain. Besides providing a pillowy layer of softness to your existing mattress, it's free of the toxic fire-resistant chemicals found in commercial bedding materials.
A very satisfied customer:
Dear Susan,
I wanted to thank you for your wonderful products and also to share with you a story you might find amusing.
As you know, I have had moderate to severe lower back and hip arthritis pain for years. I would have a lot of trouble sleeping at night and have soreness in the morning upon arising and have it all day.
I purchased an Mattress Topper and a pillow and I can't believe the difference when I get up in the mornings. I don't have the soreness that I had every day. I still can get back pain if I over-do but I know I'm going to find comfort when I go to bed. I can't believe the difference. It's wonderful!!!!!!
I have two 12 year old Shih-Tzu's. One of my dogs, Yippie, was starting to limp and I thought he must be getting a little arthritis in his hips, too. They sleep on my bed at night and they really started to enjoy the Mattress Topper. So much so that they were stealing my pillow to sleep on during the night. So I called you to make two wool "doggie" pillows for them. I put those on the chairs they like to sleep on during the day. Well, they liked them so much that I couldn't get them to come upstairs when it was time for bed! They wanted to stay on their "doggie" pillows. The good news is that Yippie has not limped since he has gotten his pillow!
I just purchased another Mattress Topper and pillow for my daughter who has trouble with knee and back pain. She loves it! We are thinking of Mattress Toppers as Christmas gifts!!!!!
Thank you, Thank you, Thank you!!!!!!
Betsy, FL.
See what dozens of other satisfied customers are saying about our all-natural bedding products on our customer testimonial page.
Order Your ECO-Pure™ Wool Mattress Topper Today!
A Wool Renewal Program Product
The Wool Bed Company™ offers the exclusive Surround Ewe™ Wool Mattress Renewal Program on our Economy Mattress Topper. Our bedding experts remove, check, and clean the wool of your topper so you can enjoy comfortable sleep for years to come without having to purchase a new mattress or topper.
| | | | | |
| --- | --- | --- | --- | --- |
| The Natural Economy Topper | Size | Wool Fill | | |
| Twin | 39x75 | 8.5 lbs | | |
| Twin Long | 39x80 | 10 lbs | | |
| Double | 54x75 | 12 lbs | | |
| Queen | 60x80 | 14 lbs | | |
| East King | 76x80 | 18 lbs | | |
| Cal King | 72x84 | 18 lbs | | |
The Deep Sleep mattress topper is 4-5" thick before hand-tufting, resulting in an approx. 2" thick topper after tufting (when new). Natural wool fibers compress over time. To maintain the loft of your mattress topper, it is necessary to turn and flip the topper regularly. Please follow Surround Ewe™'s wool mattress care guide for years of comfort.
Not sure which mattress topper is right for you? Give us a call today and get a personal sleep comfort consultation with one of our experts!