Mattress Toppers
Sort by:
Wool Mattress Toppers Hand-Made From Natural 100% ECO-Pure™ Wool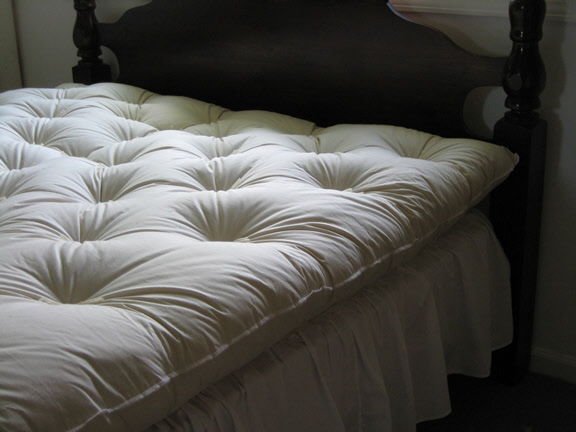 Breathe Clean Air While You Sleep with Non-Toxic Bedding
The Wool Bed Company™ is known for offering the most luxurious organic cotton/ECO-Pure™ wool bedding on the market in unique and original designs. Our All Natural ECO-Pure™ Wool Soothe Ewe Mattress Topper along with all our unique, patented organic bedding products ensure you're getting the world's premier wool bedding.
The Wool Bed Company™ carries the best in natural wool and organic bedding for beds of all types and sizes. Our Ultimate, Standard, and Economy mattress toppers can fit everything from California Kind to a standard twin frame, letting the whole family have a healthy night's sleep. All our products are free from toxins, synthetic detergents, dyes and flame retardant chemicals. Discover the difference handmade bedding makes with our extensive line of wool based customized products.
Benefits of a Natural Wool Mattress Topper
Toxin-free bedding
Natural supportive structure
Supportive-will not leave an imprint behind
Provides breathability keeping you warm when it's cold & cool when it's hot
Available in all standard bed sizes (Custom size requests are welcome)
Wool Mattress Topper Product Highlights
Our mattress toppers can be completely customized to perfectly fit your style and size of bed. Our bedding experts will work with you to deliver the best mattress topper for a better night's sleep.
Encased in 100% natural ORGANIC cotton fabric
5X's the loft of down
Hand tufted and double-needle stitching for extra durability
Materials are raised or grown in USA
Weights of wool filling are approximate

Complete Your Wool Bedding Set
To complete your bed, use a wool protector pad. Made from 100% natural cotton and our own high standards, these washable bedding accessories will keep your mattress topper clean and protected.
Don't forget your wool filled pillows or organic cotton sheets to finish your bedding set. Make sure to top it all off with a comforter, available in European, summer, or winter styles for comfort all year. Our eco-friendly wool dryer balls will cut your drying time in half- saving you time and money on energy bills. Explore all our wool bedding products to find exactly what you're looking for.
Health Benefits of Wool Bedding

Quality sleep is essential to staying healthy. Struggling to fall asleep on an uncomfortable mattress can exacerbate many health problems. Mattress toppers are an affordable way to make your bedding more comfortable without buying a new mattress.
Our wool bedding is doctor-recommended to improve sleep quality for those with:
Sleep apnea
Chronic pain from injury, arthritis, and osteoporosis
Allergies
Pregnancy
Muscle soreness
Migraines and headaches
Insomnia
Get healthy as you sleep with natural wool mattress toppers.
Wool Mattress Toppers for College Dorm Beds
Get the new college student in your life the gift of a great night's sleep. Our wool mattress toppers are customizable so you'll be able to get one that fits twin or twin XL college dorm mattresses. Don't settle for a cheap memory foam mattress pad that needs to be replaced every year. Our All Natural ECO-Pure™ Wool Soothe Ewe Mattress Toppers are handmade from quality natural wool that will remain in great condition well after graduation.
Get 100% Natural Cotton Bedding that Lasts
The Wool Bed Company™ offers to remove, check and clean the wool in your mattress topper as part of our renewal program so you can keep your hand-made organic bedding for life. You'll forever sleep comfortably with clean and safe wool bedding for years to come without having to buy a new mattress or topper.
Improve your health as you sleep on a natural wool mattress topper. Learn more about our 60 Nights of Sleep Satisfaction Guarantee for wool mattresses.
Contact our organic bedding experts at The Wool Bed Company™ today for more information.