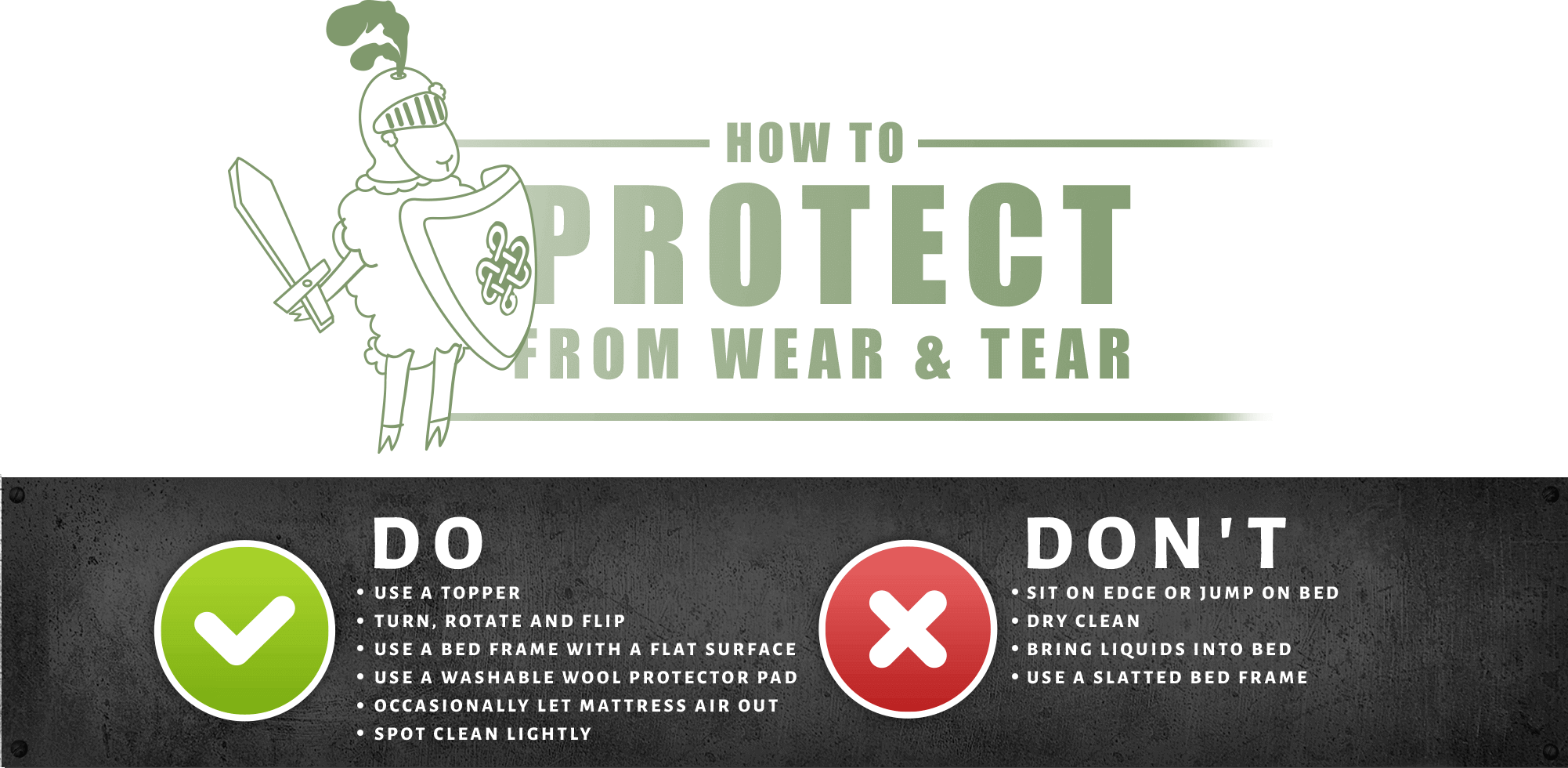 Call ahead to schedule your wool bedding renewal system. With a turnaround time less than 1 week, you'll be back in your sleeping haven in no time at all. If you live in the Wisconsin area, call ahead and drop off your wool products in the morning, go shopping and have lunch in nearby Oconomowoc then we'll have your "new" mattress ready by the afternoon so you don't have to sacrifice a night without.
Our
Premium™ mattress
is comprised of multiple layers of batted wool. After approximately 4-5 years of normal use and special attention to our care instructions you may want to get your Premium™ mattress renewed to its original loft and thickness. Our renewal program is a great way to have your mattress feel like new —at a fraction of the retail price!
Check out our Renewal page for more information!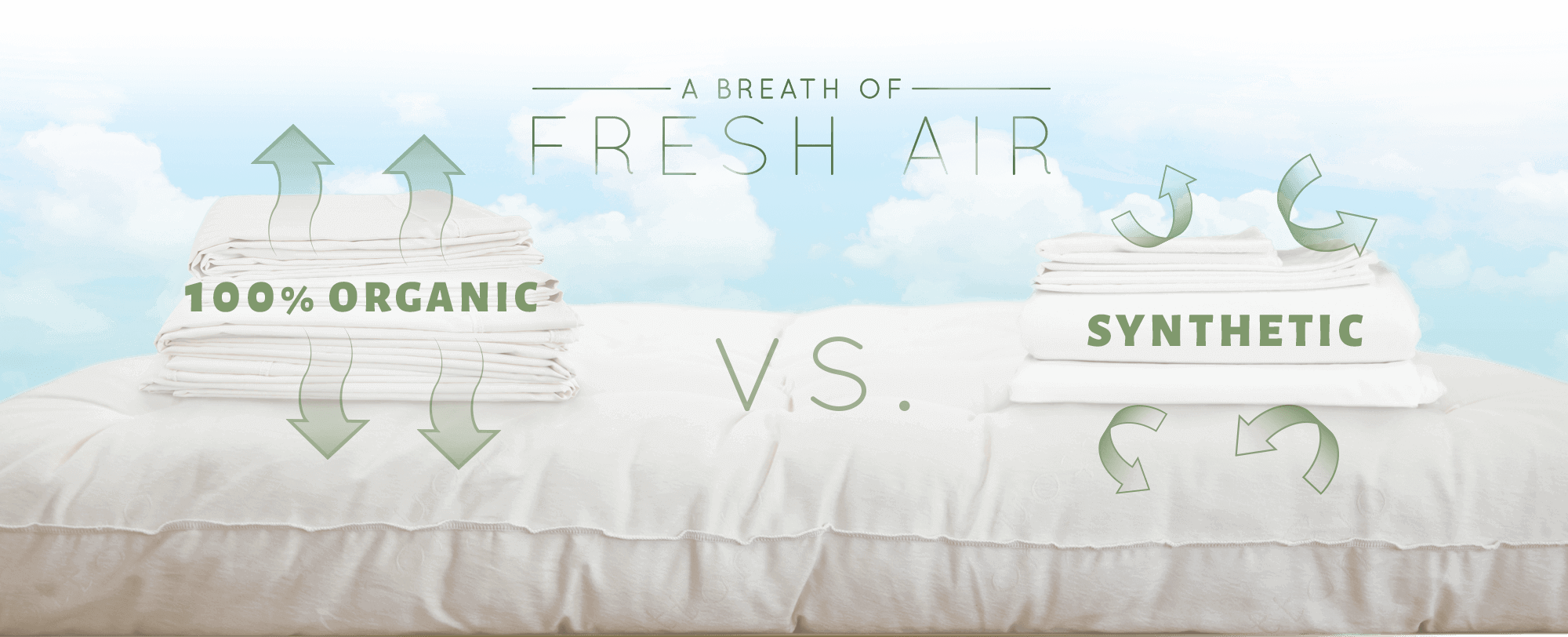 To maximize the life of your new
Soothe Ewe™ topper
, we recommend flipping and rotating your topper on a weekly basis. This is easy to do and can be done with only one person! Simply grab the left bottom corner of the topper and walk along the bottom edge of the bed until the topper flips over and then walk the other end of the bottom edge back to the right side of the bed. This ensures that your body weight will be evenly distributed to entire surface area of the topper. Seasonally, we recommend that you air out your topper on warm, breezy day or by simply opening your bedroom window and allowing air to circulate through your topper.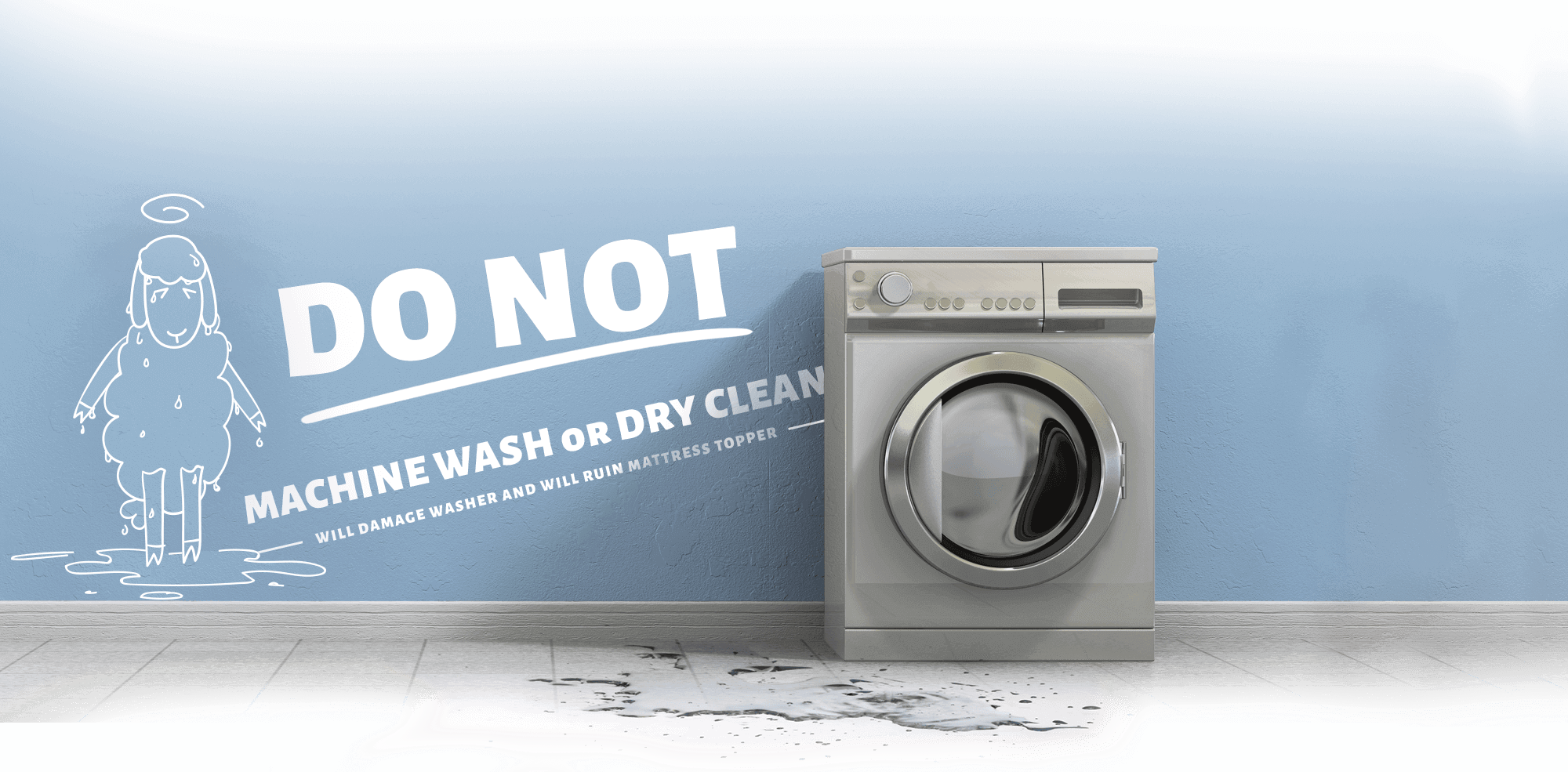 Our products are made with Eco-Pure™ wool that has not been treated with any harsh chemicals of any kind. Because the wool fibers are in the natural state, they have not been exposed to any type of washing or drying cycle. It is important that they are not washed in your washing machine or dried in a dryer. If this is done, the wool inside your product will felt unevenly and become very hard and lumpy. Never take your organic, wool products to the dry cleaner or vacuum them with a vacuum cleaner. Follow our
specific care instructions
included with your order!
Wool Mattress and Mattress Topper Care Tips
How to Protect Your Wool Bedding for Years of Healthy Sleep
Once you receive an ECO-Pure™ Wool mattress or topper from The Wool Bed Company™, the first thing you will want will be to try it out for a great night's sleep! Put the mattress directly over a flat surface bed frame and get ready for bed. If you have a mattress topper it's just as simple: place the mattress topper over your conventional mattress and you're ready to go! To enjoy healthy, comfortable sleep every night, you need to know how to care for your wool bedding. The Wool Bed Company™ has helpful tips for maintaining your mattress topper for years to come.
The Importance of Breathable Wool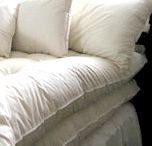 Clean, cared for wool fibers allow your mattress or topper to breathe. Ventilation enhances all the benefits of wool such as temperature regulation, moisture content and loftiness. It's why our wool mattresses and toppers can be used year round, as the naturally breathable wool fibers provide warmth in winter and cooling in summer. Your own body heat regulates the temperature of the wool! In the winter, natural wool bedding will quickly warm you by evenly spreading your body heat. In the summertime, the air circulating through the fibers keeps you at an optimum body temperature without overheating.
Your wool mattress needs to breathe, so it is best to regularly care for your wool and use our organic cotton coverlet to take advantage of maximum benefits. Synthetic coverlets reduce the advantages of having wool bedding. Our 100% organic cotton coverlets, comforters, and sheets provide the same breathability.
Proper Maintenance of your Wool Mattress Topper
REMOVE your Soothe Ewe™ Mattress Topper from your bed about every three months for cleaning. This will give you a chance to clean and/or place it outdoors on a bright sunny day on a blanket for a few hours to air out. DO NOT MACHINE WASH OR DRY CLEAN. Not only will this damage your washer and dryer, it will ruin your mattress topper.
How to Protect Your Organic Wool Mattress from Wear and Tear
Do...

Don't...

Turn, Rotate, and Flip Your Wool Mattress On A Regular Basis: Wool mattresses should be rotated on a monthly basis (sometimes more when the wool mattress is brand new), and flipped twice a year. This will help ensure the wool mattress wears in an even fashion, instead of a certain side wearing faster than the rest. For mattresses that can't be flipped (like pillow tops), be sure to turn and rotate on a regular basis.

Use A Bed Frame with Flat Surface: This will help keep the structure of the wool mattress in place and will prevent sagging.

Use A Washable Wool Protector Pad: Our washable wool protector pad prevents staining on the mattress surface and is easy to wash, absorbs moisture and keeps the mattress surface smooth and comfortable.

Occasionally Let Mattress Air Out: Take your mattress outside in the spring air! This will give the wool a chance to breathe and fluff up for the next season!

Spot Clean Lightly: If a stain reaches the mattress through the wool protector pad absorb excessive moisture with a towel and use a damp clean towel with water only to dab any remaining stain.

Sit On The Edge…and NO Jumping On the Bed: Mom knew what she was talking about when she told you not to jump on the bed! Bouncing up and down increases the wear exponentially and unnecessarily, and sitting on the edges weakens the corners, eventually causing them to droop and sag.

Dry Clean Your Wool Mattress: Chemicals used in the dry cleaning process can be hazardous to the materials found in your wool mattress and take the organic chemical free aspects away from your organic wool mattress!. In fact, don't use chemicals at all on your wool mattress – that includes Lysol and bleach. Using cleaning products won't get the mattress any cleaner, and you'll end up breathing in harmful fumes. The best way to keep your wool mattress clean is prevention – read on for more information!

Bring Liquids Into the Bedroom or Set Wet Laundry on the Bed: Keep your wool mattress dry or protect it from moisture with wool mattress pads, and your new investment will stay as good as new for a long time.

When you order the Surround Ewe™ Wool Mattress, you'll never have to worry about the quality of the mattress you're receiving. Our ECO-Pure™ Wool mattresses are the number one choice for customers looking for an organic alternative to mass produced, cheap, low quality mattresses. Buying from The Wool Bed Company™ adds to your investment through our unique Wool Bedding Renewal Program.
Renew Your Wool Mattress Regularly
It is normal for woolen products to lose some of their thickness and fluff over time, so The Wool Bed Company™ renew your wool mattress topper after approximately 3 years of use. With our Wool Bedding Renewal Program each wool bedding product covered is returned to us, then dismantled, the wool inside is checked, cleaned, added to and reassembled with an all new cotton fabric outer covering. You MUST Call 1-920-860-6086 to schedule an appointment to have your product renewed.
All Natural Wool Bedding Care - Getting a Better Night's Sleep
Here are a few tips for getting a night of deep, restful sleep with your Soothe Ewe™ Mattress Topper, Snuggle Ewe™ Comforter, and the other fine organic cotton and natural wool bedding products from The Wool Bed Company™ at Kerry Hills Farm.
Snuggle In

There's no need to bundle up under the covers. In fact, you should sleep with your skin as close as possible to our all natural wool bedding products. Wearing lightweight cotton sleepwear allows your Soothe Ewe™ Mattress Topper or ECO-Pure™ Wool Comforter to create a cocoon of therapeutic warmth, which goes a long way toward providing temporary relief from pain and stiffness. We recommend against wearing silk, polyester or flannel pajamas, as these fabrics create a barrier between your skin and our all natural wool bedding.

Relax with Natural Support

Relax! It's really not hard with our all natural wool and organic cotton bedding sleep products. Wool fleece offers a weight support structure like no other. The natural "springiness" created by our all natural wool bedding provides a wonderfully cushiony base. Wool bedding conforms to the contours of your body, supporting and evenly distributing your weight. While our all natural ECO-Pure™ Wool bedding is highly beneficial for everyone, it is especially ideal for those suffering from fibromyalgia. The natural warmth and cushioning eases joint pain, keeps you warm, and helps soothe away headaches. You'll absolutely love the way your Surround Ewe™ Wool Mattress gently lulls you into restful sleep!

Make Your Wool Bed Properly

Proper setup of your Soothe Ewe™ Mattress Topper makes a difference. Your box spring should be placed on a bed frame, and your mattress on top of the box spring. Your Soothe Ewe™ Mattress Topper should then be placed directly on top of your mattress. We recommend putting our Washable Wool Protector Pad over the topper for an extra layer of protection before putting on your fitted sheet. Setting up your bed in this manner ensures many years of comfortable, restorative sleep so you can wake up each morning pain-free and ready to start your day. Since you're going natural, you may also want to consider one of our Natural Wood Platform Beds or Surround Ewe™ ECO-Pure™ Wool Mattresses.

Fluff and Turn the Mattress

As with any natural fiber product, your Surround Ewe™ wool Mattresses and Toppers perform better and lasts longer with a little basic care. We recommend fluffing and turning your all natural mattress topper every time you wash your bedding. This helps restore the natural springiness of the wool fibers. Regular fluffing, turning and flipping also prevents your wool mattress topper from becoming compressed in one area from prolonged pressure caused by sleeping in the same spot night after night.

Air It Out

Every three months, we recommend removing your Soothe Ewe™ Mattress Topper from your bed and placing it on a blanket or clothesline outdoors for a few hours to air out. You should do this on a bright, sunny day so the sun's warmth dries out any moisture in the wool fibers. An hour to an hour-and-a-half on each side is plenty. It's also a good idea to use your vacuum cleaner attachments to remove any dust and loose dirt from your natural wool mattress topper before putting it back on your bed.

Caution: DO NOT MACHINE WASH OR DRY CLEAN. EVER! Wool cannot withstand machine washing or dry cleaning and your warranty will not cover damages incurred as a result.

Renew Wool as Necessary

Having a soft, fluffy wool mattress cover is key to getting a good night's sleep. Our Soothe Ewe™ Mattress Toppers typically maintain their cushiony loft for at least three years. However, it is normal for woolen products to lose some thickness and fluff over time. We recommend having your mattress topper renewed after three years. Our Wool Bedding Renewal Program makes your all natural wool mattress topper look and feel like brand new—for about half the cost of a replacement!
We dismantle the topper, remove the wool inside to check and clean it, add more wool as needed, then reassemble the topper with a new organic cotton bedding cover. No need to worry about being without your beloved mattress topper for a long time—just call ahead to schedule your renewal and we'll get it done within 24 hours of receiving it. This isn't a one-time offer, either. You can send your Soothe Ewe™ Mattress Topper or Snuggle Ewe™ Comforter back to us every three years for renewal.

Don't Leave Home Without One

If you travel a lot, you know how hard it can be to get a good night's sleep in an unfamiliar bed. We designed the Carry Ewe™ Traveler specifically for road warriors who miss the cushiony joys of our all natural wool bedding. The Traveler is a twin-size natural wool underquilt with the same thickness as our standard wool mattress topper/underquilt. This portable, all natural wool bedding packs neatly in its durable, denim carrying sack so you can toss it in the trunk, stash it in your suitcase, or have the airline check it through with your larger luggage. With the Carry Ewe™ Traveler, at least one of the comforts of home can go with you.

Sweet Dreams from Surround Ewe™!