Pillows & Neck Rolls
Sort by:
Washable Pillow Protector to provide an additional layer of protection for the pillow from the nightly use of the pillow.
$120.00 - $99.00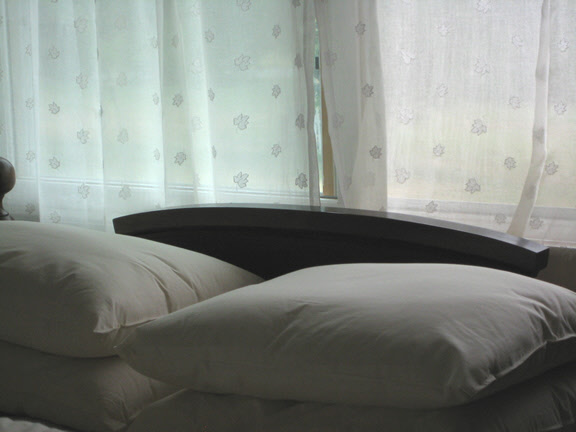 Shop Natural 100% ECO-Pure™ Wool Filled Pillows and Neck Rolls Online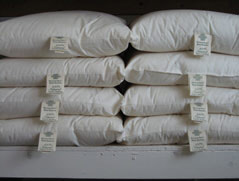 Your first step to a good night's sleep is our 100% Natural Organic cotton with ECO-Pure™ Wool Fill Pillows! Our ECO-Pure™ Wool fill provides warmth and comfort, relieving muscle pain and headaches, even snoring! ECO-Pure™ Wool pillows also naturally resists dust mites, mold and mildew, making our pillows perfect for people with allergies. ECO-Pure™ Wool is natural, pure, and non-allergenic.
Healthy Benefits of ECO-Pure™ Wool
Tension in the neck and upper back can cause headaches, stiff necks, and loss of sleep. Our Neck Rolls support your head and neck to align your vertebrae into a restful position for a great night's sleep. A properly aligned neck helps those suffering from sleep apnea or chronic snoring keep their airways clear through the night.
And despite the name, neck roll pillows can accommodate different body types and structures. These rolls are just the right size to support your ankles, knees, or hip joints if you are recovering from a leg injury. Pregnant women often use pillow rolls to sleep in a comfortable position as they get closer to their due date.
Anyone who is hospitalized for an extended period can benefit from a neck roll pillow. Hospital pillows do not have the natural loft of wool. If you know you will be undergoing medical treatment soon, order a custom pillow from The Wool Bed Company™ today!
ECO-Pure™ Wool Pillow Product Highlights
Pillows available in 5 sizes and multiple thicknesses
100% natural ORGANIC cotton
Double-needle stitching for durability and long-life
Hypo-allergenic for allergy relief - resistant to dust mites, mold, and mildew
"Test-Rest" Guarantee – Our pillows come in a medium or firm comfort rating. If your pillow is too soft or firm, just call us within the first 30 days and we'll ship you a new pillow to your specifications. Send us back the old pillow when you receive the new one.
Tired of sleep discomfort? We promise our organic cotton/ ECO-Pure™ Wool bedding products will soothe your aching body and soul.