Comforters
Sort by:
Toxin Free Wool Comforters - 100% ECO-Pure™ Wool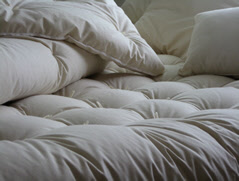 No need to add layer upon layer for warmth in bed. ECO-Pure™ Wool has 100% natural properties to match to your body temperature while you sleep, meaning you are never too warm or too cold. Two people in the same bed can experience their own level of sleeping comfort. You won't have to deal with stolen covers any longer when both of you are comfortable with a wool comforter.
We offer summer, winter, and European style wool comforters to fit all bed sizes from Twin to California King.
Comforter Weights:
ECO-Pure™ Wool Comforter Highlights
Hypoallergenic - resistant to dust mites, mold, and mildew
Double needle stitching for extra durability
ORGANIC cotton fabric
ECO-Pure™ Wool
Handmade
100% made in the USA
Healthy Benefits of Wool bedding
Caring for Your New Wool Comforters
Natural air circulation is a great way to refresh your new wool comforter. Simply open a window in the morning to evaporate any moisture lost through respiration and transpiration during the night. Our Renewal Program includes our wool comforters, meaning your bedding will last longer for greater savings.
Accidents happen. The best way to clean your new comforter is to spot clean the soiled area with water and a mild soap. Apply the area generously and blot with a towel. Never machine wash or dry a wool comforter and certainly don't try to vacuum it!
For a custom wool comforter set or for more information about the benefits of wool, contact The Wool Bed CompanyTM.