Organic Linens
Sort by: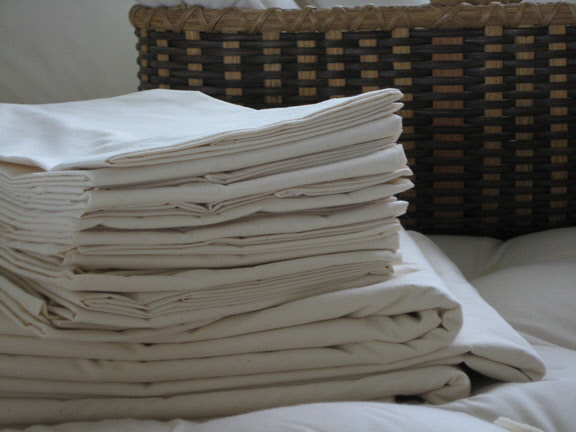 Natural, Organic Cotton Sheets, Linens, and Coverlets
Our Surround Ewe™ Collection of Chemical Free Bedding

Our luxury linens and comfortable coverlets enhance your nightly relaxation and protect your valuable sleep investment. The Wool Bed Company™ offers 100% organic cotton for all our linen sets. Add beauty to any bedroom with these sateen stripe natural linens and coverlets. All our cotton sheets and covers are available from Twin to California King, with protective pads and duvets capable of fitting comforters and toppers of all sizes.
Order sateen stripe sheets as replacements for worn out linen or for use during your laundry cycle. These handmade sheets are soft yet elegant with their distinctive weave pattern. The 400 thread count adds to the softness of the organic cotton for night after night of healthy sleeping.
Cotton Sheet Product Highlights
Cotton grown in USA to support local farmers
Handmade bedding for constant quality
Hypoallergenic
No added chemicals or toxins for better health
Healthy Benefits
The Wool Bed Company™ promotes natural wool and organic cotton for all our bedding products. An all-natural organic product, cotton helps you sleep better. We only work with farmers who use organic growing methods as it is better for the planet and for the product. Free from chemical herbicides, insecticides, and fungicides, our cotton remains clean of toxins from seed to harvest to your bed.
Organic Cotton Sheets and Neck Roll Case Product Options:
Sleep System Linens includes everything you need to finish your wool mattress with a topper and pillow bed set. Select everything from comforters to pillows to the size of your organic cotton sheets.
Underquilt Coverlet is self-fitting to protect your valuable investment in your ECO-Pure™ Wool Mattress Topper. The coverlet ranges from Twin to California King to keep any size mattress topper clean.
Comforter Coverlet comes in duvet style and will protect your valuable wool comforter investment. This coverlet is ideal for allergy suffers who want relief.
The Wool Bed Company™ offers value you can't match. We have the first and best 100% organic cotton linens and bedding. You'll breathe better air while you sleep in ultimate luxury. Our cotton and wool products offer benefits you won't find in other bedding materials. We guarantee your satisfaction!