Single Traveler Wool Mattress Topper with Bag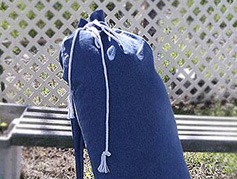 Twin Size Wool Traveler Mattress Topper with Denim Travel Bag
When traveling, it doesn't take long to realize how important a good bed is for a good night's sleep. Vacations, visiting family, or traveling for business can quickly take a toll on you if you can't sleep well. Hotels have a "one mattress fits all" mentality, leaving many guests tossing and turning all night. And while sleeping on a relatives couch or spare futon may be free, there's usually a price to be paid in the morning.
For anyone who sleeps on a Surround Ewe™ wool mattresses every night, the idea of sleeping on an inferior mattress can be daunting. Our customers dread the thought of being without their Organic Wool Sleep Systems while traveling, so we designed the Carry Ewe™ Traveler. The Carry Ewe™ is our Standard Twin Wool Mattress Topper with a durable denim carrying case to keep it protected in car trunks and through baggage claim. With the Carry Ewe™ Traveler, you can have bring a little of the comforts of home on every trip.
Caring for your Traveler Mattress Topper
Like all natural wool products, the wool fibers will compress over time and cause the topper to lose its loft. To maintain its softness, you should rotate and flip your mattress topper when using it on a regular basis. It's also a good idea to not leave it stored in its carry bag. After a couple years of use, we recommend sending it in for renewal. The Surround Ewe Wool Renewal Program rejuvenates all our wool bedding products. Our bedding experts will remove and clean the wool inside, add new wool, then enclose it in a new cotton cover so it looks, feels and smells like new again. The cost for this service is half the suggested retail price of the Traveler.
The Traveler Sleep System At a Glance:
100% NATURAL wool
100% ORGANIC cotton
Hypo-allergenic for allergy relief
Hand-tufted, double-needle stitching for durability
Health Benefits: