Cotton Sheets Keep You Cool in the Summer

How to Get Healthy Sleep in Summer Heat
As the summer days grow longer we enjoy more sunlight and time to have fun, but we also must endure rising temperatures keeping us up at night. The correct combination of bedding is the key to a full, refreshing night's sleep without overheating. The Wool Bed Company™ offers the best way to stay cool in your bed when air conditioning is not an option.
There are many tips and quick fixes to limit the heat during the night, but we want to provide long term solutions. To escape the heat in the summer months, our bedding professionals recommend sleeping with our natural wool and cotton to transfer heat off your body.
Risks of Lack of Sleep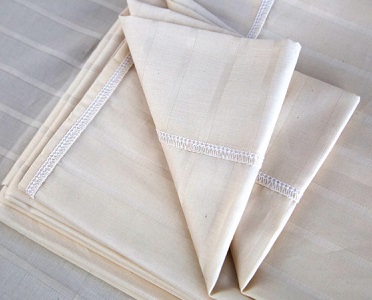 Everyone knows if you do not sleep you will be irritable and less focused, but if tossing all night because bedding and a mattress is too much you could be risking much more. Long term lack of sleep can cause:
High blood pressure
Greater risk of heart disease
Stroke
To avoid such risks, your entire bed can be covered with organic cotton and wool bedding where you will sleep better and healthier.
Wool Mattresses and Toppers Keep You Comfortable and Cool
The word 'wool' in the summer may seem contrary to popular opinion for sleeping. However, a wool mattress topper or a large wool pillow can be necessary to help you control heat and let you sleep in a cool environment.
In any climate cold or hot, the body's temperature can go up and down. The body tries to regulate this by sweating and releasing moisture. The goal of the bedding should be to work with this system instead of fight it. Our organic wool can absorb and release moisture, but does not hold on to it. The breathable fabric transfers it to limit overheating.
Our Organic Sleep System Sheet Set uses a blend of organic cotton sheets and covers with natural wool fill to regulate your sleep temperature:
Cotton Fitted Sheet
Flat Sheet
Pair of Cotton Pillowcases
Cotton Sheets Give a Cool Night's Sleep
Once you feel organic cotton sheets, you notice the difference in feel than flannel or sateen sheets. Our cotton is produced to make sure air can pass through easily. Unlike synthetic bed sheets, our cotton is grown in the USA without any chemicals and handmade into 300-thread count to ensure comfort.
Get your best summer night sleep with our organic bedding. Contact The Wool Bed Company™ today for more information about owning 100% all natural bedding.