European Comforter Set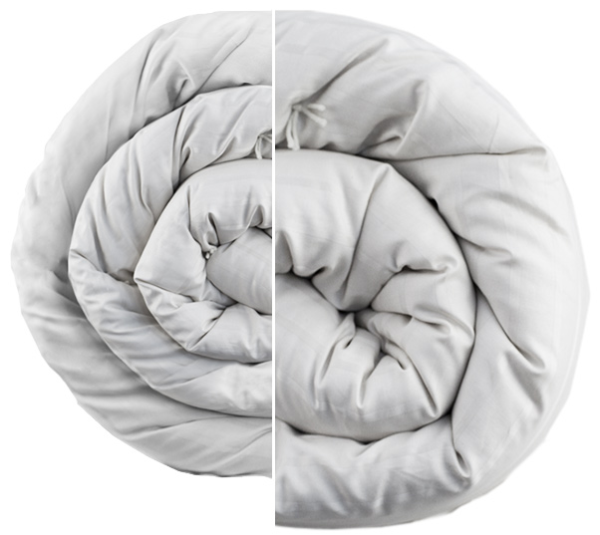 Euro-Style Comforters Handmade in Wisconsin
Our organic cotton and ECO-Pure™ Wool comforters are all custom hand-made in Wisconsin. Sized to sit on top of the bed with little drape, these comforters are made with all-natural 100% ECO-Pure™ Wool fill and a natural 100% organic cotton fabric cover. The organic cotton works with the wool for greater breathability than synthetic comforters, regulating your body temperature as you sleep. You won't have to worry about waking up sweating.
Wool-Fill Comforter Sizes
Twin
Full
Queen
East King
California King
Our European comforter has nearly double the wool fill of our winter and summer comforters. The Set gives you the option to use either the summer or winter comforter or combine both summer and winter comforters inside the duvet/coverlet. Double needle stitching, used in all our wool bedding products, ensures long-lasting durability.
Caring for a Wool-Fill European Comforter
Follow these care instructions to make your comforter last for as long as possible:
Never machine wash or dry your new wool comforters, as this will ruin both your comforter and possibly your laundry machine. Use one of our organic cotton comforter coverlets to prevent stains in the first place and never try to vacuum your wool comforter. For small stains, all you need is a little soap and water to spot clean.
If spot cleaning isn't enough, try our Renewal Program. We completely clean and refill your comforter so it is like new. This is like getting a brand new comforter set at a fraction of the cost of a new one. We work quickly, so you won't be without your comforter for long.
Weights listed below are the combined weights of both summer and winter comforters.
| | | | |
| --- | --- | --- | --- |
| Comforters | Size | Wool Fill | Retail |
| Twin | 68x86 | 102 oz | $459.00 |
| Full/Queen | 86x86 | 120 oz | $559.00 |
| East King | 90x100 | 154 oz | $659.00 |
| Cal King | 90x100 | 154 oz | $659.00 |