100% Organic Wool Winter Comforter
Made in the USA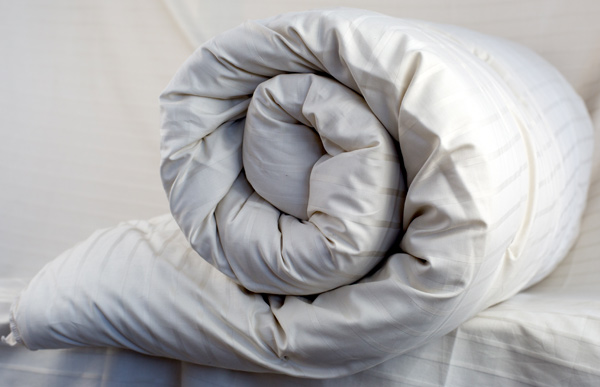 Staying Warm with Wool Duvet Bedding
Winter wool comforters from The Wool Bed Company™ are all custom hand-made in Wisconsin to keep you warm even when the temperatures outside are low. They are made using all natural 100% organic cotton and ECO-Pure™ Wool fill for a completely natural sleep experience. Wool is naturally insulating without any of the allergenic properties of a down comforter.
Double needle stitching, used in all our products, gives extra durability. You can toss and turn without worrying about finding a frayed or damaged comforter in the morning. With ECO-Pure™ Wool bedding, you'll be comfortable no matter how you fall asleep!
Winterize Your Bedroom with All-Natural Wool
Winter can take a toll on your sleep schedule. One of the main problems is balancing your temperature as you sleep. Our ECO-Pure™ Wool insulates for warmth and has natural breathability to keep you from overheating.
Our winter wool comforters are available in every size:
Need a specific size? Call to learn about our custom wool bedding options!
Hypoallergenic Materials Means Better Sleep
Wool bedding lets you breathe easier too. Our ECO-Pure™ Wool fill and organic cotton casing are both hypoallergenic. Hypoallergenic bedding is recommended for those with allergies, asthma, and other breather difficulties. Other comforter fills do not have this benefit. Feather down in particular is susceptible to mold and dust mites, which wool is not.
Another major benefit of all-natural wool is a natural fire-resistance. Wool doesn't need any chemical toxins added to make it meet fireproofing standards. This makes our wool one of the healthiest choices for your bed.
Caring for Your Organic Comforters
Accidents happen, and time is of the essence when it comes to keeping your comforter looking great. If you're not using an organic comforter coverlet, you will need to spot clean the soiled area. We recommend spot cleaning the soiled area with water and a mild soap. Apply generously to the area and blot with a towel until dry.
Never machine wash/dry or vacuum your new wool comforter. Doing so will ruin your bedding. If you really need a deeper cleaning for your comforter, try our exclusive Renewal Program. We clean and refill your wool bedding product so it is as good as new, all at an affordable price.
Warm up your winter bedroom with a Winter Wool Comforter from The Wool Bed Company™ today.
| | | | |
| --- | --- | --- | --- |
| Comforters | Size | Wool Fill | |
| Twin | 68x86 | 70 oz. | |
| Full/Queen | 86x86 | 80 oz. | |
| King | 90X100 | 90oz. | |
| | | | |