A Healthy Hospital Bed Starts with Wool

Using Natural Wool Bedding to Speed Up Recovery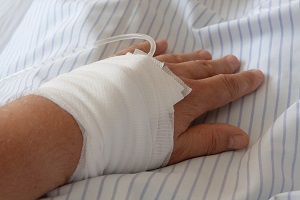 Recovering from hospitalization takes time, whether you're overcoming an illness or just had a minor surgery. Weeks or even months might pass before you feel back to normal. The Wool Bed CompanyTM has natural wool and organic cotton bedding to help speed up and increase your comfort during recovery.
Our ECO-PureTM wool mattresses can be custom made to fit any type of bed, even those found in hospitals and hospice centers. This means you can sleep in comfort during your hospital stay. Find out more about how wool bedding will help during your recovery process.
Hospital Beds
Most hospitals use a standard bed size of 36"x80", slightly thinner than a traditional twin bed and closer in length to an XL twin mattress. This can make it incredibly difficult to find any sort of mattress topper or pad. Fortunately, The Wool Bed CompanyTM creates custom wool mattress toppers in the exact dimensions you need. For extended hospitals stays from surgery to childbirth, bringing a wool mattress topper will make your trip more comfortable.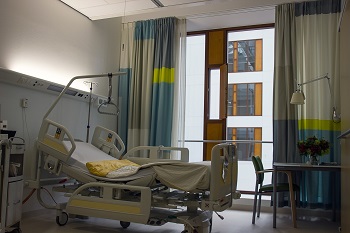 Bringing your own sheets to the hospital is another way to increase your comfort. Since hospital bedding is frequently washed, it can become coarse and scratchy. Having your own sheets during an extended stay will make your room more personal and enjoyable. Our organic cotton sheets are hypoallergenic and made to fit any size bed.
Pillows are another essential. Depending on your reason for hospitalization, you may spend most of your time in a reclined position in your hospital bed. Having a sturdy neck roll pillow will keep your back and neck from aching after hours of tests and treatment. At night, a wool pillow with hypoallergenic cotton covers will let you sleep in peace better than the plastic wrapped pillows provided by the hospital.
Hospice Facilities
Checking a loved one into a hospice care facility is an emotional moment. Since hospice is intended to provide pain relief in the final weeks or months of life, hospice facilities actually recommend patients have their own comfortable, familiar bedding. While moving in and assembling an entire wood bed frame might be difficult, bringing a wool mattress or topper is not.
Our summer and winter comforters will help your loved one remain warm while in hospice. The comforters feel light yet provide natural insulation. Maintaining a regular body temperature will be much easier with ECO-PureTM wool.
Rehabilitation Centers
Rehabilitation facilities for physical therapy, counseling, or drug treatment often require patients to remain in housing on property for the sake of monitoring their condition. Like hospice centers, having a comfortable bed can make the time in rehab easier for the patient.
Tips for a Speedy Home Recovery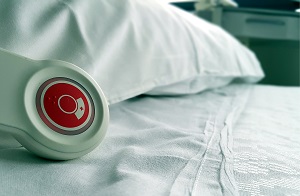 Once you are out of the hospital, you still have a long road of recovery ahead. Here are some tips from The Wool Bed CompanyTM to encourage healing:
Keep eating, even if you're not particularly hungry. You might not have an appetite, but your body needs extra energy to speed up the healing process. Eat light meals or snacks which are easy to digest and avoid processed foods if possible. Drink plenty of water while avoiding sugary beverages.
Improve your immune system with vitamins. The last thing you want is your already weakened body to fall ill after hospitalization. Remember to continue taking medication for as long as your doctor has prescribed. Do not stop just because you feel better or you'll risk falling ill again.
Clean sheets are better if you are recovering from surgery and have sensitive skin around your stitches or staples. Using organic cotton will be comfortable and healthy thanks to hypoallergenic properties.
Stay active when possible. Bed sores, ulcers, and deep vein thrombosis are the result of not being moved frequently enough from a prone position during recovery. Shifting your body weight at least every two hours will help reduce your risk. Our wool mattresses will help provide relief as well. Try to go on short walks, around the room at first and then around your house as you build up your strength.
Elevate affected limbs. Using a pillow to support specific body parts will lower your chances for discomfort during recovery. Our wool body pillows will keep you elevated to one side while our ECO-PureTM neck rolls can support any joint you need.
By following these tips and the advice of your physician, you can have a smooth and comfortable recovery.
If you or a loved one will be undergoing surgery or hospitalization soon, order ECO-PureTM wool bedding from The Wool Bed CompanyTM today.