Perfect Healthy Nights with Organic Wool Bedding

It's amazing the benefits organic wool bedding can provide. Organic wool bedding is suitable for any season or climate and is commonly overlooked due to proverbial false myths. The ideas of organic wool bedding being too hot or itchy are major misconceptions people have. On the contrary, many organic wool fibers are breathable, soft, and comfortable, especially non-chemically treated wool. Chemically treating wool (bleaching and dying) is what tends to give the "itchy wool sweater" its negative appeal. Organic wool bedding is natural and the coil-like fibers have tiny air pockets allowing steady evaporation of moisture providing a cooling effect in warm weather, and keeping warmth in during cooler weather. These are just a couple of the numerous positive health and all around benefits organic wool bedding provides.
Health Benefits of Organic Wool Bedding and Mattresses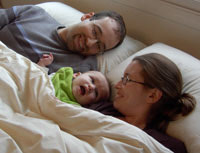 Sleeping with organic wool bedding provides various health benefits no synthetic bedding can provide. Organic wool bedding regulates body temperature and serves as a buffer for pressure points. In turn, these organic wool qualities give way to relief from Arthritis and Rheumatism. Pain sufferers can use organic wool mattress toppers to reduce or diminish night time dampness and temperature changes usually triggering pain and soreness of these conditions. Organic wool possesses natural moisture wicking properties lessening dampness, keeping you cooler on summer nights, and producing warmth in winter without getting overheated.
Organic wool bedding is hypoallergenic and dust-mite resistant. Allergy sufferers can enjoy a better night's sleep without the threat of an itchy coughing or sneezing fit being triggered. Organic wool bedding is mold, mildew, and bacteria resistant. Another positive is dust-mites tend to prefer other types of bedding such as synthetic and down materials over organic wool because they need moisture to survive. The minimization of dust-mites is crucial to providing the best possible night's sleep. Organic wool mattresses and organic wool bedding sets will put your allergies and asthma to rest so you can experience all the advantages of a great uninterrupted night of sleep.
Organic Wool Sleep Products Eco-Advantages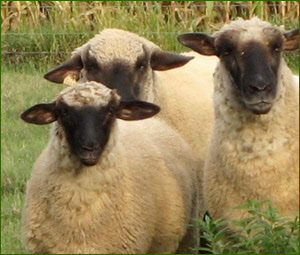 Organic wool has numerous benefits. One of the most positive benefits of organic wool is its eco-friendliness. Organic wool comes from the always replenishing fleece of sheep. This natural, renewable source means that organic wool is sustainable, biodegradable, and animal friendly seeing no sheep are killed in the harvest of wool. Sheep are well taken care of and maintained to ensure their replenishment of wool is healthy and productive.
The resilient fibers of organic wool comforters, organic wool pillows, and organic wool neck rolls provide clump free body cushioning and long lasting products. Organic wool bedding products can last at least 10 years and usually longer. Even pets love the resilient fibers of organic wool pet beds. The properties of organic wool provide comfort and relaxation inducing warmth, allowing your pet to happily nap during the day and sleep throughout the night. There is no doubt that organic wool products perform better and last longer than all other fabrics used for bedding.
The Wool Bed Company™ offers all the organic wool bedding products you'll need to provide yourself and your family with the best sleep possible. From organic wool bedding systems to Traveler Mattress Toppers, The Wool Bed Company™ is committed to your healthy and beneficial sleep. Wake up energized and feeling great. Shop our organic wool bedding products online or contact us today to learn more about the sleep enhancing qualities of organic wool bedding.
The all-natural, organic, non-GMO revolution is all around us. As concerned consumers we are finding ourselves reading more and more labels, purchasing self-sustaining and non-toxic items for our homes. Due to the increased efficiency of the building of our homes and the increased link between chemical leeching and disease, we've created new ways to ventilate our homes. Many soap companies are promoting healthy homes through safe cleaning products for people and pets. Despite all of this awareness, few have thought about the bed in which they are sleeping. Surround Ewe™, an organic wool bedding manufacturer, is increasing awareness regarding the benefits of organic wool bedding and providing many people with a restful healthy night's sleep.
Toxins in Traditional Bedding
You spend approximately eight hours a night lying in your bed with the majority of your body's skin exposed to the bed's surface. Your lungs are breathing the air around the bed the entire time, in-taking the 'outgas' of toxic chemicals from the components of the bed's manufactured products. This passive absorption of toxins affects your sleep, your health and your life.
Modern mattresses are required to contain fire retardants. Poisons such as boric acid and antimony are used as flame retardants to treat fabrics, covers and other bedding materials to pass the fire retardant laws in the mattress industry. These chemicals have been shown to affect the reproductive, cardiovascular and neurological systems causing such issues as developmental delays, heart and lung damage, hair and memory loss, kidney damage and possible links with cancer developments.
Other issues occurring with manufactured bedding are increased body temperature regulation and moisture retention leading to an increase in allergens and the increase of disorders (fibromyalgia, allergies, arthritis, etc…) flared due to these irregularities.
The Affects of Allergies on Your Sleep--The Benefits of Organic Wool Bedding
Surround Ewe™ bedding and beds are made of organic wool and cotton providing a defense against common allergens such as dust mites, bacteria and mildew. Utilizing 100% natural organic wool means there are no dyes, chemicals or synthetic detergents triggering unwanted allergy symptoms.
Two of the biggest culprits of night-time allergies are the dust mites and bacteria. Both thrive in areas where moisture retention lingers as they are dependent on moisture for their survival. Organic wool bedding from Surround Ewe™ wicks moisture away leaving a climate too dry for the allergens survival.
The Affects of Fibromyalgia on Your Sleep--The Benefits of Organic Wool Bedding
People suffering with Fibromyalgia have chronic pain causing insomnia throughout the night. These people have difficulty falling asleep due to tossing and turning to get comfortable. Fibromyalgia sufferers also wake up frequently during the night due to discomfort and have difficulty getting back to sleep, often causing them to wake up too early in the morning as well. The lack of restful complete sleep causes more problems during the day heightening their pain, causing daytime anxiety, fatigue, irritability and loss of productivity.
An ECO-Pure™ wool bed by Surround Ewe™ has custom solutions for Fibromyalgia sufferers' special needs. The Soothe Ewe™ Mattress Topper creates a comfortable level of sleep by conforming to the contours of the sleeper's body. The Soothe Ewe™ ECO-Pure™ Wool Mattress topper comes in various thicknesses to meet the level of pain the fibromyalgia patient is feeling.
The Affects of Arthritis on Your Sleep--The Benefits of Organic Cotton and ECO-Pure™ Wool Bedding
Arthritis like fibromyalgia is a chronic pain condition causing disruptive sleep patterns for its sufferers. Debilitating joint pain is agitated by uncomfortable sleep positions and pressure points from traditional mattresses.
The Soothe Ewe™ Mattress Topper remedies these issues through its customizable thickness choices, comfortably supporting the contours of the arthritis sufferer. Enhanced sleep begins a positive cycle towards less pain during the day.
The Sleeping Solution—ECO-Pure™ Wool Bedding
Fortunately, there is a solution to this toxic sleeping dilemma--ECO-Pure™ wool bedding. Wool bedding materials are supportive, soft, warm and breathable. Wool bedding gives your body a chemical-free night of sleeping, allowing easy temperature regulation. This in turn decreases the accumulation of allergen producing moisture, mildew, mold and DUST MITES.
Organic wool bedding and organic wool mattresses are completely sustainable and free from unhealthy chemicals. Find the perfect organic cotton and ECO-Pure™ wool bedding in custom wool mattresses, wool mattress toppers, wool comforters, wool pillows and complete custom wool bedding sleep systems at Surround Ewe™. There is no other bedding material, synthetic or natural with all the impressive properties of Surround Ewe™ organic wool bedding. If you are looking to ways to increase the health of your home and your family then contact Surround Ewe™ to begin sleeping on a complete organic wool bedding system. Your definition of a good night's sleep will be renewed.