Comfort for your Pets with ECO-Pure Wool Pet Bedding

100% organic cotton and ECO-Pure™ wool bedding is very versatile. There are a wide range of products available to accommodate every member of your family from infant to adult and even your pets! Some of the most common pet health discomforts can be reduced with Soothe Ewe™ Wool Pet Beds from The Wool Bed Company™. Your pets spoil you with love, now you can spoil them with comfort.
Organic Cotton with ECO-Pure™ Wool Pet Bedding for Bad Joints or Hips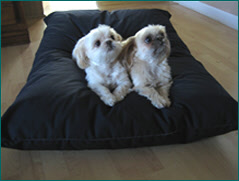 Joint and hip pain and discomfort tend to be common health issues for household pets, especially with age. Among the most common and most studied health issues found in dogs, particularly larger breeds, is hip dysplasia, usually leading to arthritis. There is no cure for this painful joint disorder yet, but you can reduce the pain and give your furry friends a better night's sleep with organic wool pet bedding. Organic cotton with ECO-Pure wool bedding reduces painful pressure points within your pets bedding, providing a more even, relaxation inducing, cushiony bed for your pet. All natural, organic wool is extremely resilient, allowing full bounce back, and diminishing the presence clumpy or flattened areas due to continual use. Give your pets the ultimate treat of comfort with organic wool pet bedding.
Organic Cotton/ ECO-Pure™ Wool Pet Bedding for Pet Allergies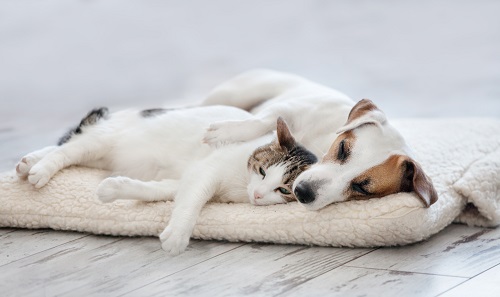 Watching your pet itch and scratch and struggle to relax can be heartbreaking. No one likes to see their pets suffer. You can reduce your pets discomfort caused by allergies with a Soothe Ewe™ Wool Pet Bed from Surround Ewe™. All natural, ECO-Pure™ wool is naturally hypo-allergenic. ECO-Pure™ wool bedding is highly resistant to dust mites, mildew, bacteria, and mold, all common allergy inducers. Synthetic pet bedding is generally filled with highly processed fabrics, chemical dyes, and other uncomfortable, moisture retaining, allergy inducing materials. It's hard enough to keep your pet's allergies under control, don't let your pet's bed be another obstacle. Let your pet relax comfortably with naturally hypo-allergenic organic cotton covered ECO-Pure™ wool pet bedding MADE IN THE USA.
Organic Cotton with ECO-Pure™ Wool Pet Bedding for Arthritic Pets
ECO-Pure wool pet bedding can provide therapeutic comfort and relief for arthritic pets. Arthritis symptoms and pain are often heightened with the presence of moisture and the lack of temperature control. ECO-Pure™ wool features extreme moisture resistance and temperature control, helping to keep your pet's arthritic discomfort to a minimum. ECO-Pure™ wool naturally wicks away moisture and provides highly breathable qualities to maintain temperature control year round. The Soothe Ewe™ Wool Pet Bed is waterproof and features a washable denim coverlet so you don't have to worry about trapping in arthritic-symptom-promoting moisture, or your pet's wool bed being ruined when it's time for a cleaning. Your pet will get such a deep, relaxing, comfortable sleep with ECO-Pure™ wool pet bedding, your only worry will be their drool inducing dreams.
Give your pet the best treat you can give them: health and comfort. Soothe Ewe Wool Pet Beds induce relaxation, provide warmth, and help give relief from common pet health discomforts. Wool pet beds from The Wool Bed Company™ are available in small, medium, large and extra-large, ensuring your furry friends of all sizes can get the comfort they deserve. Shop The Wool Bed Company's™ vast selection of organic wool bedding for your whole family, including our organic wool pet beds, Organic Wool Bedding Systems, Organic Wool Pillows and Neck Rolls, and more.