Allergy Relief with Organic Wool Bedding

Our Eco-Pure™ Wool bedding and organic cotton and wool pillows are your first line of defense against allergens such as dust mites and mildew. The experts at WebMD list our wool bedding products in conjunction with the best information to help you put your allergies to rest. Discover the purity of Eco-Pure™ Wool
Eco-Pure™ pure organic wool is sorted and washed with mild organic soaps - no dyes, harsh chemicals, synthetic detergents or chlorine bleach. The wool fibers are then put through a chemical-free carding machine. In addition, all our cotton fabric is grown and milled in the USA, all organic cotton products for complete allergy free bedding products.
Did you know that Wool is...
Naturally organic and pure
Naturally hypo-allergenic
Naturally induces relaxation - shown to lower heart rate
Naturally insulates
Naturally flame resistant
Naturally resistant to dust mite, mildew, mold and water
Naturally lightweight
Naturally comforts pain sufferers from back pain to fibromyalgia
Naturally maintains an optimal body temperature
Naturally does not sacrifice the life of an animal
Naturally is appropriate for all climates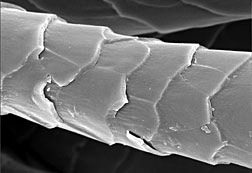 A close-up look at a single fiber of wool looks like a hair covered with scales, like the shingles on a house. Millions of cells make up the scales and are covered with a thin "skin" that is finely porous. This porosity allows vapors to penetrate, but at the same time is resistant to water droplets. The end result is a natural material that is capable of evaporating body moisture for healthy, dry and comfortable warmth.
ECO-Pure™ Wool Bedding to Relieve Your Allergies
Allergy symptoms can be a huge discomfort, and diminish your chance of a good night's sleep. Around the US in 2012 allergies are at their worse in many areas. The scary thing is, allergy inducers can be hidden where you least expect them: in your bedding. Synthetic bedding can contain chemical dyes, processed fabrics, and moisture-retaining, allergy-inducing materials. Organic wool bedding is all-natural and naturally hypo-allergenic, featuring an array of qualities reducing your chances of an allergic reaction caused by your bedding.
The Wool Bed Company™ offers Eco-Pure™ wool bedding and organic wool and cotton pillows to provide you with defense against allergens like dust mites, bacteria and mildew. WebMD experts have recognized our organic wool bedding as a beneficial deterrent against allergies. Eco-Pure organic wool is 100% natural. This means there are no dyes, no harsh chemicals (such as chlorine bleach), no synthetic detergents, and no other allergy inducing ingredients to trigger those unwanted allergy symptoms.
Dust mites are one of the main triggers of mid-night allergy symptoms. You can reduce the threat of being awoken by itchy eyes, sneezing, and coughing fits by discarding your synthetic or down bedding and replacing it with all natural, organic wool bedding from the Wool Bed Company. Dust mites tend to be more attracted to synthetic and down materials, because these materials retain moisture and provide a better living habitat for the mite's growth. Dust mites and bacteria need moisture to survive, and organic wool wicks away that moisture, leaving too healthy and too dry of a climate for their survival. Don't give dust mites an open invitation, shoo them away with organic wool bedding from The Wool Bed Company™.
Hypo-allergenic organic wool bedding could be the night-time allergy relief you've been seeking for years. Many allergy sufferers don't get the rest they need with constant wake-ups and restless sleep due to frustrating allergy symptoms. You may begin to think there is no hope, and you're destined to suffer your whole life. The Wool Bed Company™ says 'Don't give up just yet'. Try our vast selection of 100% natural, organic wool bedding products to help you get the full night of sleep you deserve.
Healthy All Natural Wool Bedding Products from The Wool Bed Company™
Organic Wool Mattresses – This is the latest product in the Surround Ewe™ Collection. The Surround Ewe™ Organic Wool Mattress is the #1 choice for all-natural, organic mattresses today. Get all around comfort and allergy relief with organic wool bedding from top to bottom.
Soothe Ewe Mattress Toppers – This is the most important accessory to ensure the most healthy sleep environment for you and your family. Soothe Ewe Mattress Toppers fully support your body and distributes your weight evenly, away from pressure points. Keep moisture and bacteria away, and give yourself a full night's rest with the comfort of all-natural, organic mattress toppers.
Surround Ewe™ Sleep System – The patented Surround Ewe™ Sleep System is designed for complete comfort. This system includes 1 set of Snuggle Ewe comforters, 1 pair of Hug Ewe Pillows, 1 pair of Support Ewe Neck Rolls, 1 sheet set, 1 pair of pillow cases, and 1 pair of neck roll cases. Get all the benefits of organic wool bedding with Surround Ewe™ organic wool sleep systems.
Snuggle Ewe Comforters – The solution to the perfect night's sleep. Snuggle Ewe comforters provide you year round comfort with breathable temperature control, and natural insulation. Sleep sound with naturally hypo-allergenic organic wool comforters.
Support Ewe Neck Rolls and Hug Ewe Pillows – Organic wool neck rolls and pillows provide you with extra warmth and comfort while relieving muscle pains and headaches. Organic wool pillows and neck rolls keep the dust mites away from your face, and help you to breathe fresher air, reducing your level of snoring, and your risk of allergy attacks. These are available in 5 thicknesses from the Wool Bed Company.
Put your allergy symptoms to rest with quality organic wool bedding products from The Wool Bed Company™. Don't let a good night's sleep be something you only dream about. Shop our wide selection of all-natural, organic wool bedding products for your whole family today and start getting the sleep you deserve.
Call Wool Bed Company™ at 1-888-WOOL-BED for more information today!