The Benefits of Wool Bedding for Midwesterners

Midwest Climate Control Made Possible with Eco Pure™ Wool Bedding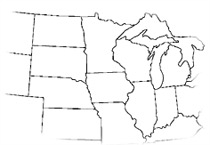 When you reside in the Midwest, it's apparent the weather is unpredictable. You may go to bed with the air conditioner on and wake up wishing for warmth. Whether you are located in Ohio, Michigan or South Dakota, wool bedding has climate controlled features despite the weather outside. Our wool bedding sleep systems efficiently absorb and release moisture. Your individual body temperature remains at a consistent 98.6. The Wool Bed Company™ offers high quality, ECO-Pure wool bedding supporting a perfect climate control best suitable for you.
Wool Bedding Relieves Pain for Illinois and Missouri Farmers
Not only will you experience a more comfortable sleep pattern with wool bedding, your health will benefit as well. By maintaining an even body temperature, your body rids itself of any pain causing chemical by products.
As a heavy agricultural region, the Midwest requires a vast amount of physical labor. From Kansas to Missouri and Ohio to Illinois, our wool bedding is commonly utilized to help relieve pain from those long days on the farm. Wool delivers therapeutic warmth, which works together with your body to temporarily relieve pain and stiffness. Sore and tight muscles become relaxed conforming to the contours of your body helping you to fall asleep faster.
Wool Prevents Bugs for the Midwest Region
Bugs love the Midwest! Our little critters conjugate where trees, farms and water do producing North Dakota, Minnesota, Iowa and Indiana as prime locations for a variety of bugs. The Wool Bed Company™ is here to help! Bugs detest wool. Most bugs are unable to digest wool let alone breathe in it thereby deterring them from even coming near it. With our huge selection of wool products like wool mattresses, wool toppers, wool-cotton bedding and even wool dog beds, you're certain to rest without a pest infest.
Find Allergy Relief from Wool Bedding for the Varying Midwest Seasons
Wool bedding is an all-natural allergy relief sleep solution and ideal for seasonal allergies or the year round allergy sufferer. Our Eco Pure™ bedding systems are assembled without dyes, harsh chemicals, or bleach and washed with only organic soaps. The purity of our wool bedding is highly recommended for allergy sufferers. Wool is hypo-allergenic so you can be rest assured your allergies won't keep you up any longer!
Wool bedding is perfect from Indiana to North Dakota to Missouri improving sleep across the United States