Wool Mattress Topper vs. Memory Foam Pad

Why Wool Mattress Toppers are Superior to Memory Foam
In a fast-paced world, a good night's sleep is hard to come by. Having a comfortable mattress is one of the first ways to ensure a good night. What if a new mattress is currently unaffordable or simply out of the question? A mattress topper provides the perfect solution.
There are many different types of mattress toppers, and the most comfortable would have to be a 100% natural wool mattress topper from Surround Ewe. They're comfortable, affordable, and made with quality service. How do Memory Foam pads compare? After all, they're the same thing and surely a modern product would be better a wool product? Let's see how they measure up.
Comparing Wool and Memory Foam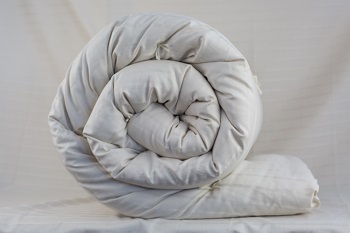 For starters, wool mattress toppers can reach 5 to 10 inches of loft, usually tufted to 2 to 7 inches by the time it reaches your bed. The compression of those extra inches allows for the topper to last longer, as there will be more lift over time from the excess inches. The foam in Memory Foam pads wear down as they're used, usually starting at only 2 inches of height and only go down from there. If a wool mattress topper loses loft, all it takes is a quick shake or fluff to regain it. This means Memory Foam pads must be replaced far more frequently than wool mattress toppers and offer less support for sleepers.
One of the main draws of Memory Foam pads is that they contour to the body. Pure wool bedding completely supports the body, allowing for an even distribution of weight. Unlike foam pads, wool bounces back rather than becoming permanently shaped in a short amount of time. There's also the question of durability. Memory Foam wears away over time and any excess activity will cause it to fade faster. There's no such problem with a wool mattress topper.
Comfort for All Sizes
Wool mattress toppers are available in all mattress sizes, from twin and double to queen and even California king. In fact, Surround Ewe can even customize the exact size of the mattress topper you need. Memory Foam can also be customized, but only with a pair of scissors at home.
Wool, being a natural product, remains clean for years. Mold, mildew, and bacteria are unable to grow in wool mattress toppers, a great relief for anyone with allergies. The same cannot be said for Memory Foam pads, which must be changed every few years as the foam absorbs sweat and dead cells as you sleep. Even new pads tend to have an odd odor from the synthetic material. It hardly sounds like an ideal way to sleep.
Sleep without Harmful Toxins
Memory Foam pads are made of synthetic material that has been treated with potential harmful chemical compounds to render it flame resistant. Wool mattress toppers, on the other hand, are already flame resistant and therefore have no unnecessary chemical treatment.
You'll never be too hot or cold with a wool mattress topper since wool is a highly breathable material. While some Memory Foam pads will claim to adjust to temperature, the results are rarely the same compared to wool. In fact, one of the number one complaints from Memory Foam users is that the pads retain heat rather than disperse it.
Long term, the pure wool mattress topper is far better for the environment than the Memory Foam pad. Disposal of wool is taken care of by Surround Ewe while performing our exclusive Surround Ewe Renewal Program. A used Memory Foam pad goes into the trash.
At the end of the day when you're getting ready for bed, the choice is clear. A natural wool mattress topper from Surround Ewe is all you need to start counting sheep and get to sleep.