Metal Spring Beds a Cause of Cancer?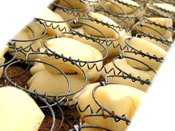 As if you needed yet another reason why traditional mattresses are bad for your health compared to Surround Ewe's™ Organic Wool Mattress with ECO-Pure™ Wool, there have been numerous articles published regarding the coiled metal springs in mattresses. Traditional mattresses are still being made with these metal springs, and although many traditional mattress users are already familiar with the uncomfortable pain metal springs can cause, there is now concern these metal springs do more than just that.
The Cause of Cancer?
Recently, the Scientific American published a guest blog written by R. Douglas Fields, Ph.D., claiming the metal spring beds we sleep on are exposing us to electromagnetic radiation, a common cause of cancer. "…as we sleep on our coil-spring mattresses, we are in effect sleeping on an antenna that amplifies the intensity of the broadcast FM/TV radiation." Spending about a third of our lives sleeping means a lot of time spent exposed to this electromagnetic radiation.
Assisting in Cancer Prevention?
However, other articles claim these metal springs are acting as deflectors. An article by Discover Magazine says these metal springs actually reflect these radio waves away from our bodies, DECREASING the chances of developing cancerous tumors. It's important to note that researchers have varying opinions regarding electromagnetic radiation such as TV transmissions and whether or not they actually do cause cancer.
No matter which theory you choose to believe, it's safe to say metal springs are not the best thing for us to be sleeping on. Until these theories are proven or are refuted, they will be a topic of discussion for scientists, researchers, and the rest of us.

BUY Surround Ewe™, the quality Organic Wool Mattress with ECO-Pure Wool™, the safer, healthier alternative to traditional mattresses. Surround Ewe™ is the best place to find natural, organic wool mattresses for every member of your family, free of annoying metal springs and other harsh chemicals. Our ECO-Pure Wool™ is the healthiest material available for mattresses.