Using Wool to Keep Pets Cool

The Wool Bed Company™ Proves Comfortable for Furry Friends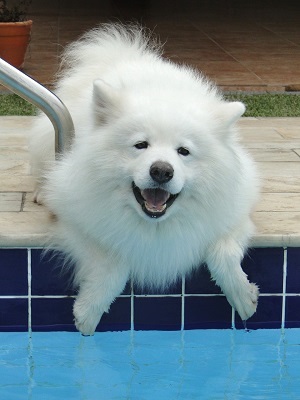 Believe it or not, wool bedding is great for your pets in the summertime. Heat is a danger to everyone, but it can be the absolute worst for furry pets. Since they do not sweat like humans, they are more prone to heatstroke and stress. These conditions lead to serious health problems and possibly death. Protect your fuzzy family member this summer with wool bedding.
Our wool bedding experts provide ECO-Pure™ Wool, the most naturally-crafted and comfortable fabric. Without synthetic detergents, dyes, and chlorine bleach, our wool is best for you, pets, and the environment. Discover how wool keeps your pets cool and comfortable in warm weather.
The Science Behind the Sheep
Wool is the perfect textile; it stays warm in the winter and cool in the summer. The kinks in the fabric contain air pockets, either holding or distributing heat, depending on your body temperature. It works the same way with pets. Wool is breathable enough to circulate air, keeping them cool and content even as temperatures rise.
Our ECO-Pure™ Wool pet beds also soothe pets' arthritic joint pain. The support and surrounding factors of a wool bed comfort your little loved one, and reduces pain wherever relief is needed. Wool also repels dirt, bacteria, and odor; the three major issues when adopting a pet into your home.
Other Ways to Keep Pets Cool
Always have fresh water available for your pet. If you are on a family vacation, bring water bottles specifically to keep your dog or cat well hydrated on the road. Fill water dishes at the start of every day and consider getting a few more around the house. Some cats and dogs love getting ice cubes in their water as an extra cool treat, so try it out this summer!
Never leave a pet in a car alone. Even if you only plan on running into a store for a few minutes, the temperatures can rise fast enough to prove fatal for your furry friends.
Give your pets shade if they're kept outside. Dogs and cats who spend most of the day outside should have either a doghouse or other structure where they can always find some shade. Pets left in the sun can even experience sunburn, so make sure they have a safe place to go.
Protect the paws. Hot concrete and asphalt can get hot enough to burn the skin on your pet's paws. Keep your pet on the grass or buy some protective booties before going on any long walks.
Beggin' for More Wool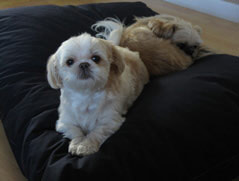 Once you introduce them to our superior wool beds, your pet will love you forever. With temperature-regulating and pain-relieving characteristics, your furry family member will be comfortable and happy this summer. Odor and allergy-defying factors make you a satisfied pet owner and Wool Bed Company™ customer. Everyone wins!
Our wool bedding and products are crafted with the highest-quality fabric, making the relationship between man and pet even better. Take the next step in keeping your pet happy over the summer; shop The Wool Bed Company™.
Contact our bedding experts for ECO-Pure™ pet beds and other home furnishings.