ECO-Pure Wool Sleep Systems for Natural Warmth

Fall is approaching fast, and winter is just around the corner. You don't want the cold weather to creep in before you're ready! Now is the perfect time to order your naturally warm and breathable Surround Ewe™ wool sleep system from The Wool Bed Company™. The Wool Bed Company™ has everything you need to complete your wool bedding needs, from complete wool sleep systems, to each individual bedding piece or accessory. AND don't worry if you have a special sized wool bedding need, all of the Surround Ewe™ bedding is handmade, so just call 920-860-6086 to order your customized wool bedding set today!
Complete Toxin Free, ECO-Pure Wool Sleep System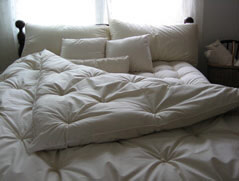 ECO-Pure wool bedding is the perfect solution to the extra warmth you desire in the fall and winter months. Get an excellent night's sleep so you feel refreshed, warm and ready for the fall leaves and winter snow activities that await! Surround Ewe™ Organic Wool Bedding is naturally warm AND breathable. This means you'll be nice and cozy without having to worry about getting too warm, or having sweat and moisture trapped in. You can cuddle up in your organic wool bedding and stay dry, cozy, and comfortable all night long, all year round. The Wool Bed Company™ offers complete organic wool sleep systems to give your bed a 100% cozy wool bedding make over, or you can purchase each wool bedding piece or accessory individually. The Complete Surround Ewe™ Organic Sleep System includes everything you need for a good, warm night's sleep including one set of Snuggle Ewe organic cotton/ECO-Pure wool comforters, both winter and summer, one pair of Hug Ewe Pillows (only one with a twin bed wool sleep system), one pair of Support Ewe Neck Rolls, and one sheet set containing a fitted organic cotton sheet, an organic cotton covered ECO-Pure wool fill comforter coverlet, a pair of organic cotton pillow cases, and a pair of organic neck roll cases. You can't go wrong with a complete wool sleep system, and you can be confident you'll get the warm, cozy, comfy sleep you deserve!Surround Ewe™ Organic Wool Mattress Renewal Program
Surround Ewe™ ECO-Purec Wool Mattress Renewal Program
Already have Surround Ewe™ Wool Bedding and just looking to return it to its like new condition? Surround Ewe™ products are made to last, but after many years of use, you may want to restore or re-fluff them. The Wool Bedding Company offers the Surround Ewe™ Wool Bedding Renewal Program so you can keep your organic wool bedding fresh, and keep the same fluff and feel as you experienced on day one throughout the entire life of your wool bedding products. Simply call us at 920-860-6086 to schedule your wool product renewal, or if you live in the Oconomowoc, Wisconsin area, you can simply drop off your wool bedding product in the morning and we'll have it ready for you to pick up by the afternoon! All products come with a Surround Ewe™ Renewal Certificate explaining the details of the program. The cost of the program is HALF of today's original price of the product! So you only pay half the price to get a replacement new mattress or bedding product after YEARS of use!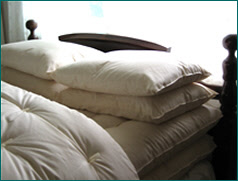 Now you're probably curious about your pillow. The Wool Bed Company™ knows your ECO-Pure wool pillow is extremely important for your sleep comfort. Everyone's pillow preferences are different, and it can be difficult to get it just right between soft and firm sometimes. It's the worst when you buy a pillow that appears like it will be comfortable, and then you get it home and it's nothing like you expected. You don't have to worry about tossing and turning on a pillow that isn't just right for you when you choose an organic wool pillow from The Wool Bedding Company. If your pillow isn't perfect for you, just call us at 920-860-6086 and tell us what we could do to make your pillow just right, and we will make a new pillow designed to suit your specific needs. When you receive your new pillow, simply place your old pillow in the box and ship it back to us with the 'Return Authorization Information'. Easy exchange! Your perfect night's sleep is our top priority!
The Wool Bedding Company for Naturally Warm Wool Bedding!
The Wool Bedding Company is your source for everything wool bedding. We supply the best of the best 100% natural wool bedding, and guarantee your satisfaction for years to come! Shop our wide selection of organic wool bedding for the whole family including ECO-Pure wool pet beds. We are your one stop wool bedding shop! Call us at 920-860-6086 for more information or to order your CUSTOMIZABLE wool bedding today!