Best Mattresses for Bed & Breakfasts, Airbnb, and Vacation Rentals

Organic Bedding for Lodgers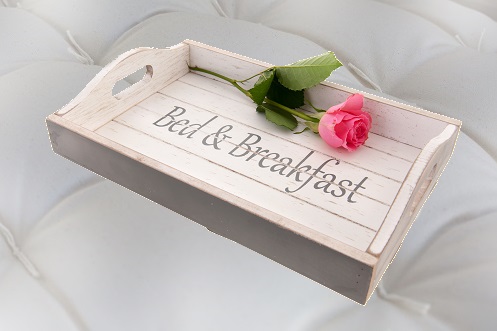 Half of the success of every bed & breakfast is the bed. If your guests don't sleep well they're not likely to return or recommend your lodging to others. Give them healthy, natural sleep with ECO-PureTM Wool mattresses from The Wool Bed CompanyTM. Our wool mattresses are always welcome in B&Bs, inns, vacation homes, and guest houses.
Mattresses Sizes for Every Room and Bed
Do you often host couples? Families with young kids? Friends on road trips? Chances are you want to have a variety of occupancy options with double and single-person beds. The Wool Bed CompanyTM has mattresses in every size:
California King
East King
Queen
Full
XL Twin
Twin
Beyond these traditional sizes, we can craft custom mattresses too!
Custom Mattresses for Antique Bed Frames
Plenty of B&Bs are located in historic houses. Antique beds will give your guests a completely authentic experience. But finding mattresses which fit these beds is practically impossible. The Wool Bed CompanyTM mattresses are all handmade so we can create custom sizes to fit your antique bed.
Not only is wool bedding historically accurate it's incredibly comfortable! Its baffled layering provides long-lasting lift to evenly disperse pressure from the body. Compared to historical alternatives like straw and down feather bedding, wool is the clear winner.
Hypoallergenic Bedding for Airbnb Guests
Health concerns are a major consideration for B&B guests with allergies. No one wants to spend the night in a bed which will cause sneezing or a rash. Show them you can accommodate their needs with hypoallergenic wool bedding.
Wool bedding from The Wool Bed CompanyTM is actually doctor recommended for those with sleep-related health issues, allergies, and chronic pain conditions.
Complete Bedding Sets
The Wool Bed CompanyTM has more than just mattresses for innkeepers and B&B operators. We handcraft:
All are made from ECO-PureTM Wool and 100% organic cotton.
Mattress Toppers For Zip King Beds
Many B&Bs are using zip king beds, also known as link beds, to increase their bedding configurations. The two twin-sized beds can be put together to make an extra-large king. Yet guests often have issues with the divide between the two mattresses. A wool mattress topper can bridge the gap and give your guests a fully supportive sleep.
Sell Wool Bedding to Guests
The Wool Bed CompanyTM has many wholesale mattress opportunities for entrepreneurs. If your guests can't get enough of wool bedding, you can sell it to them! Our organic, all-natural bedding products do well in specialty retail stores. Add our products to your gift shop today.