Wool Signature Mattress No Topper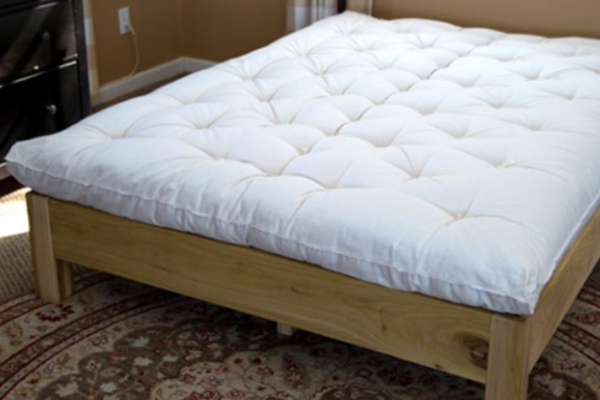 | | | | | |
| --- | --- | --- | --- | --- |
| ™Size | Dimensions (in.)* | ≈ Weight (lbs.)** | | Approx Thickness |
| Twin Signature Mattress | 39 x 75 | 42 lbs. | | 7" to 9" |
| XL Twin Signature Mattress | 39 x 80 | 45 lbs. | | 7" to 9" |
| Full Signature Mattress | 54 x 75 | 57 lbs. | | 7" to 9" |
| Queen Signature | 60 x 80 | 70 lbs. | | 7" to 9" |
| Split E. King Signature Mattress | 76 x 80 | 90 lbs. | | 7" to 9" |
| Split Cal. King Signature Mattress | 72 x 84 | 90 lbs. | | 7" to 9" |
**Weights are approximate within 5 lbs.
Our SURROUND EWE™ Signature ECO-Pure™ Wool Mattress is a full mattress with 42 to 100 lbs. of wool for a mattress to extend its longevity. It is made with a support system made of wool that replaces the old spring methods in mattresses. It is channeled wool with an end result that is all organic and much healthier!
This is the only true all-wool mattress made in the USA. Others are only layers of wool - made like toppers - and will bottom out over time. This is a truly innovative mattress that combines all the natural benefits of wool without sacrificing longevity.
Our Signature™ Wool mattress has a firmer feel, similar to the feel of a synthetic mattress, so if a firm mattress is what you - like this is the one for you.
SURROUND EWE™ Signature ECO-Pure™ Wool Mattress Features:
40 - 100 lbs. of ECO-Pure™ Wool depending on the size of mattress you choose.
Encased in 100% Organic Cotton
Double Stitched for Durability
Made entirely in the USA