Organic Cotton-Wool Comforters
Toxin Free Wool Comforters - 100% ECO-Pure™ Wool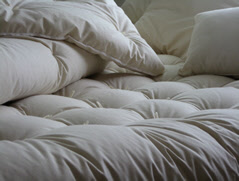 No need to add layer upon layer for warmth in bed. ECO-Pure™ Wool 100% natural properties brings your wool bedding up to your body temperature so you never are too warm or too cold. Two people in the same bed can experience their own level of sleeping comfort.
ECO-Pure Wool Comforter Highlights
Summer wt. is 48 oz - Winter wt. is 96oz
Special/ Custom wool comforter orders are welcome CALL 1-888-966-5233
Allergy relief wool bedding - resistant to dust mites, mold, and mildew
Double needle stitching
All natural ORGANIC cotton Fabric
ECO-Pure® Wool
Handmade with materials Made in the USA
Healthy Benefits of Wool bedding
End of Summer Sales Promotion! Ends Aug. 31st!