Wool Mattresses
Sort by:
Non-Toxic Mattress Handmade with ECO-Pure™ Wool
Surround Ewe™ ECO-Pure™ Wool Mattresses are the latest in the Surround Ewe™ Collection. Our organic cotton covered/ECO-Pure™ Wool mattresses are made using the same unique and patented process we use in all our products. We are the pioneers in designing natural wool bedding, and we are once again setting the industry standard with our natural ECO-Pure™ Wool mattresses.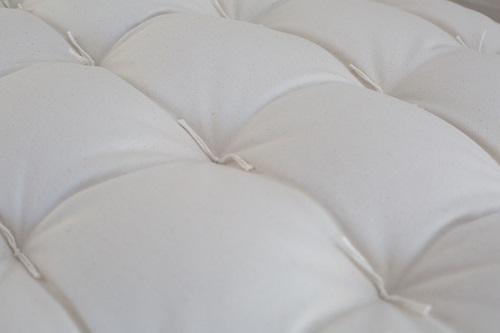 Premium and Signature mattress sizes include:
Twin
XL Twin
Full
Queen
East King
California King
Custom
Our wool mattress can easily be used with your traditional bed on your existing box spring. If you are replacing all your bedroom furniture, our wool mattresses can be used on our popular Amish wood platform bed with confidence.
Sleep Naturally with a Non-Toxic Mattress
Our natural wool mattresses are hand-made, free-form, without any woods, metal, foam, latex or springs. The materials used in this premier product are free of harsh chemicals, synthetic detergents, and dyes. Our natural wool mattresses use our own ECO-Pure™ Wool, giving you the satisfaction of knowing it will last for years. All materials are grown, raised or Made The American Way, including the 100% organic cotton fabric encasing all of our products.
Since wool is naturally fire resistant, no flame retardant chemical toxins are added to our mattresses. Synthetic mattresses must use boron, antimony, and boric acid to meet flame resistant requirements. These chemicals have been shown to have toxic effects on people. Order an ECO-Pure Wool mattress so you can sleep free from toxic chemicals every night.
Health Benefits of Wool Bedding
Wool bedding helps people sleep healthy. Our wool mattresses are doctor-recommended for anyone who can't get sleep because of:
Sleep apnea
Arthritis
Osteoporosis
Chronic pain
Allergies
Back pain
Pregnancy
Muscle soreness
Migraines and headaches
Insomnia
Two Natural Wool Mattresses to Choose From
Our Premium Mattress is seven layers of wool, double hand tufted, double stitched for longevity, and part of our organic wool renewal program! Measuring 5 inches of loft, this mattress is perfect for beds in standard or custom sizes.
Our Signature Mattress is made with pre-compressed wool, giving the mattress the stability to last for years. an additional ten layers of wool are added to give the firm feel without being too hard. Mattresses can weigh between 42 and 90 pounds*. All of this makes it the most recommended organic mattress today. Just like our Premium Mattress, the Signature is part of our renewal program!
Don't forget the wool protector pad to keep your new mattress safe from accidental spills and other messes.
Complete Your Wool Bedding Sleep System
The Wool Bed Company™ has everything you need for a natural night of sleep free from harsh chemicals and toxins.
*Weight: All products are custom, hand-made to order. Allow 3lbs variance.