Mattress Toppers
Sort by:
Wool Mattress Toppers Hand-Made From Natural 100% ECO-Pure™ Wool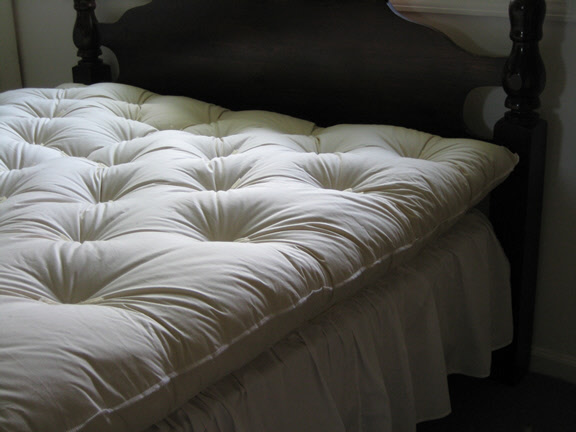 Breathe Clean Air While You Sleep with Toxin Free Bedding!

We were renowned for introducing the All Natural ECO-Pure™ Wool Soothe Ewe Mattress Topper to America. Today, The Wool Bed Company™ is famed for our original designs. Introducing the most luxurious organic cotton/ ECO-Pure™ wool bedding ever offered. Our unique and patented bedding products ensure you are purchasing the world's premier wool bedding.
The Wool Bed Company™ carries the best in natural and organic bedding for beds of all types and sizes. Our Ultimate, Standard, and Economy mattress toppers can fit everything from California King to a standard twin frame, letting the whole family have a healthy night's sleep free from toxins or flame retardant chemicals. You can even order custom sizes if necessary.
Wool Mattress Topper Product Highlights
Encased in 100% natural ORGANIC cotton fabric
Toxin-free bedding
Hypo-allergenic bedding for allergy relief
Available in all standard bed sizes (Custom size requests are welcome)
5X's the loft of down
Hand tufted and double-needle stitching for extra durability
Materials are raised or grown in USA
Weights of wool filling are approximate

Complete Your Wool Bedding Set
To complete your bed, use a wool protector pad or coverlet-duvet. Made from organic cotton and our own high standards, these washable bedding accessories will keep your mattress topper clean and protected.
Don't forget your wool filled pillows or organic cotton sheets to finish your bedding set. Make sure to top it all off with a comforter, available in European, summer, or winter styles for comfort all year.
Health Benefits of Wool Bedding
Quality sleep is essential to staying healthy. Lying away on an uncomfortable mattress can exacerbate health problems. Mattress toppers are an affordable way to make your bedding more comfortable.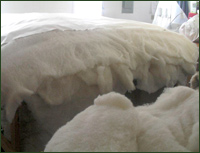 Our wool bedding is doctor-recommended to improve sleep quality for those with:
Sleep apnea
Chronic pain from injury, arthritis, and osteoporosis
Allergies
Pregnancy
Muscle soreness
Migraines and headaches
Insomnia
Get healthy as you sleep with natural wool mattress toppers.
Contact The Wool Bed Company™'s organic bedding experts today to for more information.