Carry Ewe Traveler Complete Sleep System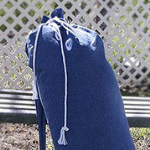 One of the best feelings in the world is returning to the comfort of your own bed after a long trip. The cool sensation of your favorite pillow, the familiar support of your mattress, and the cozy warmth of your comforter. What if you could take that feeling with you everywhere you go? With The Wool Bed Company™ Carry Ewe Traveler Complete Sleep System, you can!
Enjoy the benefits of deep sleep on your travels just like you would experience at home. Take our natural support, all organic cotton and wool sleep system with you for added comfort and relaxation while on the road. Every trip is better with your wool mattress and organic bedding to sleep on at the end of the day. Rest well wherever your travels might take you!
Traveler Complete Package includes:
1 (One) Underquilt Twin Mattress Topper
1 (One) Organic Cotton with ECO-Pure™ Wool Fill Comforter
1 (One) Standard Wool Fill Pillow
Our traveling wool sleep system comes with a washable denim carrying bag. Available in Twin bed size only.
For more information about our Carry Ewe Traveler System, contact The Wool Bed Company™.
Questions? Call Susan at 920-860-6086